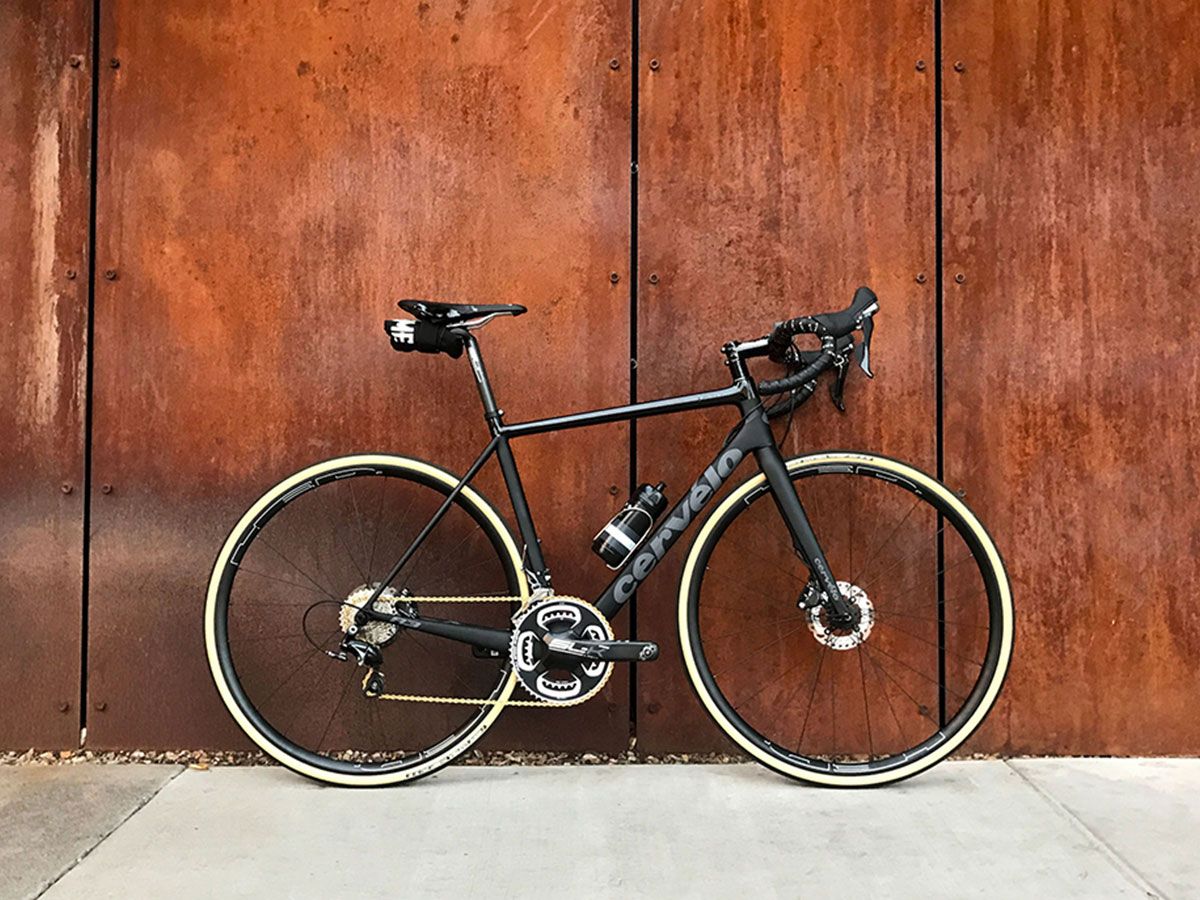 Home insurance is great but, as you might expect, it's designed to protect the contents of your home, so it only covers so many bases. Let's take a look.
Ultimately, when it comes to protecting you and your bikes, it's sensible to make sure you've got a dedicated cycling insurance policy behind you.
---
Is my bike covered under my home insurance policy?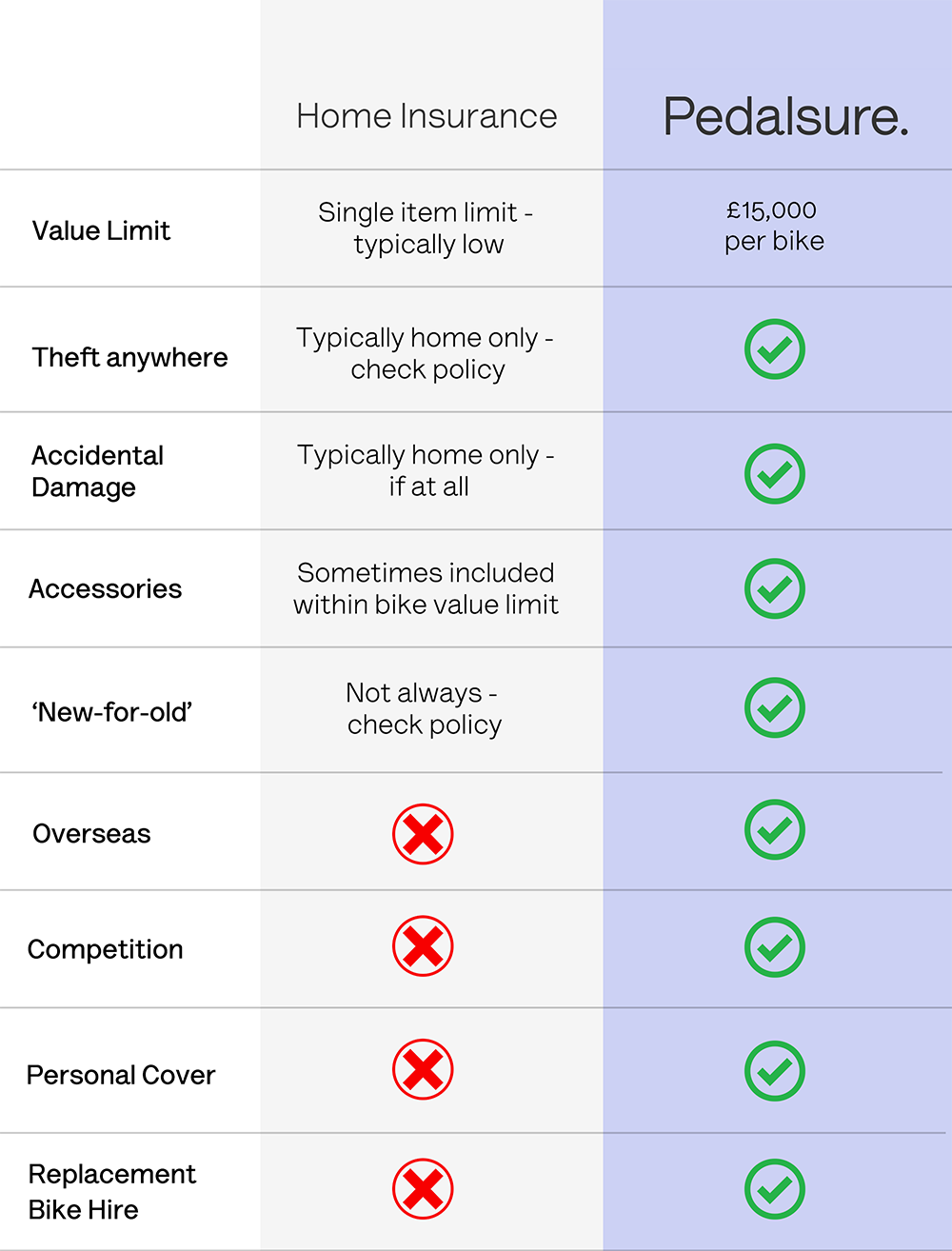 A lot of us make the mistake of assuming that things like our bikes and cycling accessories are covered under our home contents insurance policies, and while in some cases they might be, in the vast majority of them they're not, or at least not as well covered as you think. Bikes are sometimes also treated as add-ons to home insurance policies, with many insurers demanding high prices to cover and protect your prized machines.
Even if you do pay the premium to have your bikes covered under your home contents insurance policy, you yourself will not be covered if you are involved in an accident while out riding your bike. With that in mind, it's best to look into a dedicated cycling insurance policy, one that can protect both you and your machine.
At Pedalsure we make it our mission to give this kind of cover in abundance, with a handful of optional extras that can be tweaked and tailored to match your specific cycling needs. Here are 6 reasons why you should opt for a cycling-specific insurance policy over a generic home contents insurance policy.
1. We protect your bike from theft anywhere, not just at home

Every year in the UK somewhere in the region of 100,000 bikes are stolen – that's roughly one every 5 minutes. There's no escaping the risk of theft, unfortunately.
While, according to ONS data, just over half of these thefts happen from the owner's home (including garages, sheds and driveways), there's also the chance that some particularly audacious thief might nick your pride and joy from outside a cafe or shop when you're out and about. You've probably seen enough grainy imagery from CCTV cameras showing a bloke with bolt cutters sidling up to, and lopping off, a bike lock to know a bike isn't necessarily safe if it's chained up.
While we offer away from home cover as standard, the same cannot be said for a lot of home contents insurance policies. It really pays to check this with your home insurance provider.
Only a dedicated cycling insurance policy will offer a larger amount of cover, along with the assurance that your bike will be covered if it's stolen while away from home.
2. We'll remedy any accidental damage


One thing that most home contents insurance policies won't protect against is accidental damage. A dedicated cycling insurance policy, on the other hand, will offer your bike protection just like a car insurance policy offers a car.
That means if you're involved in an accident while out riding and your bike comes out of it looking a little worse for wear, it's fully covered – up to the price of the bike. And because we're cyclists ourselves and understand how infuriating it can be to be without a bike, we also offer a replacement bike hire service so you can carry on riding while you await repairs or a replacement.
Now that's definitely something your home contents insurance policy can't brag about.
3. We'll cover accessories too


While your cycling accessories could be stolen from your own home, it's much more likely that they'll be taken from your bike while you're out on a ride and have stopped for a much-needed coffee. A home contents insurance policy won't normally cover your accessories in this kind of situation, but a cycling-specific Pedalsure policy will.
Accessories and possessions cover can be chosen as an optional cover option when you apply for a quote from us. This cover option protects all manner of different accessories, including things like bike bags, lights and GPS units, up to the combined total of £1,000.
4. The sky is almost the limit


Whether you're a seasoned veteran or two-wheeled newbie, there's a high chance that your bike – and all the accessories with it – has burned a sizeable hole in your pocket. These machines are investments, rather than just mere possessions, and therefore something that needs protecting.
Many home contents insurance policies will only cover your bike up to a certain value, typically between £500 and £1,000. At Pedalsure we'll cover your bike up to the grand sum of £15,000 – a figure that should cover everything from an entry-level hybrid bike, all the way up to a top-end race bike ridden by a Tour de France winner.
5. Insured for any event, anywhere


One of the biggest benefits of opting for a cycling-specific Pedalsure policy over a generic home contents insurance policy is that you can enter any competition, at home or abroad, and have the peace of mind that both you and your bike are fully covered for any eventuality.
With Pedalsure you'll also be covered while riding abroad, just as you would be if you were riding your home roads. This foreign travel cover option can offer cover for up to 60 days overseas, protecting you and your bike on any kind of cycling trip, whether it's an impromptu weekend getaway or season-long vacation.
6. You AND your bike


While there are some home contents insurance policies that'll cover your bike, there are none that'll cover you and your bike should you be involved in an accident while riding.
Unlike a lot of other insurers, we put you – the rider – first and foremost. Bikes can easily be replaced, you on the other hand cannot. If you're involved in an accident and suffer an injury while on your bike, we'll cover any and all of your medical needs, like emergency dental work or rehabilitating physiotherapy, up to the value of £50,000.
As cyclists ourselves we understand how hard it can be to return to riding after a nasty accident, that's why – as well as financial support – we'll also offer you emotional support, giving you that helping hand you need to get back on your bike and riding again.
Putting the person first also means we'll help anyone else involved in an accident that you may have caused. We can offer personal liability cover up to the value of £1,000,000 should you cause any accidental harm or damage to another person's property while riding your bike.
---
Home contents insurance policies are great and should definitely be used in tandem with a cycling-specific insurance policy to protect your most treasured possessions. They shouldn't however be used as an alternative, for all the reasons illustrated by this article.
If you've not yet chosen a dedicated cycling insurance policy to cover you and your bike, it's about time you did. Cross the box on that to-do list and get a free quote from us today.