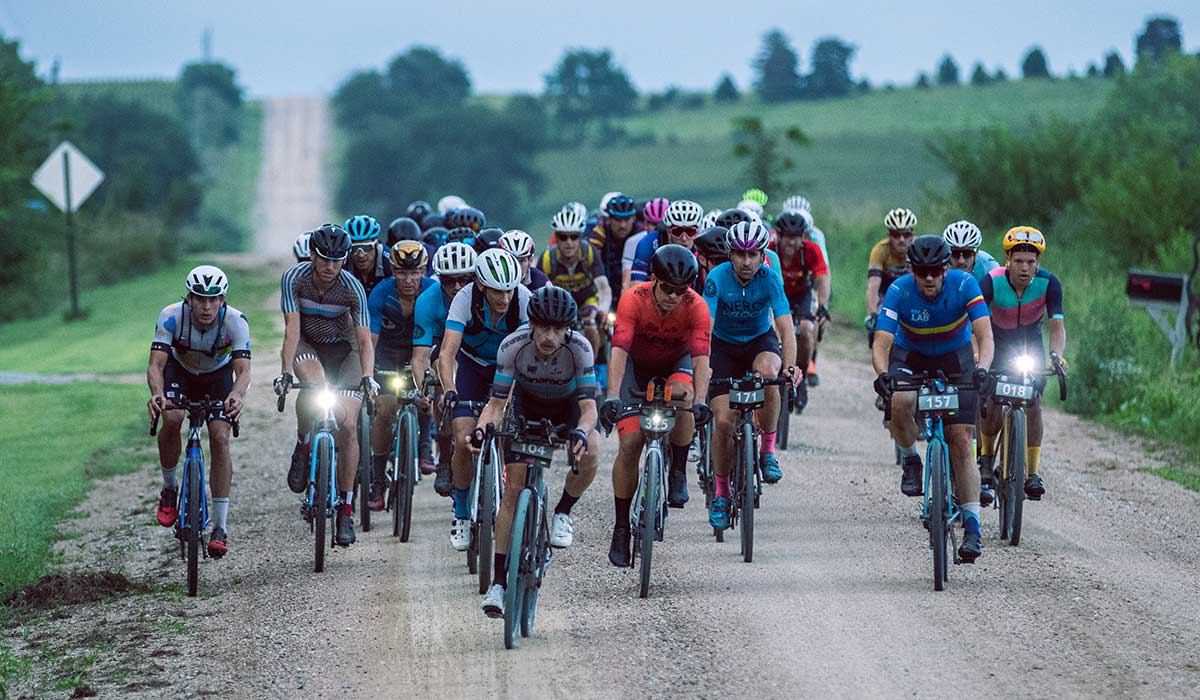 Sportives are a fantastic way of testing yourself and your cycling ability. These mass participation events are a chance to do a big ride with plenty of support. You might be apprehensive about riding all day but thanks to the marshals and feed stations along the route, there will always be someone to help you.
We all have to start somewhere with our first event. So, to cut the pre ride day nerves and to make your debut sportive as hassle free as possible, we have compiled some top tips.
Table of contents
---
Do your research
The first stage is to do your research. Pick an event that suits your ability and what you most enjoy doing. If you like climbing and want to push yourself, pick a hilly route. If you would rather have a calm, flattish route with plenty of views, choose a well-known amateur sportive like the London to Brighton bike ride. Make sure you triple check the ride requirements to do with kit, parking areas, necessary IDs, etc. so that you can concentrate on the riding. Still in a pickle? Our lists of the 8 Best UK Sportives For New Cyclists and The Top 8 UK Sportives will help you decide.
Train for the event
The sportive might be your longest ever ride so it's crucial to condition yourself prior to the event. Get the miles in before the big day (but avoid the usual training mistakes) to build up your fitness so that you can actually finish the event. You should be aiming to ride at least two thirds of your event's distance in training. For example, the London to Brighton bike ride mentioned above is 86km (54 miles) so you should make sure to clock in a ride of at least 57km (35 miles) in training.
Learn how to ride in a group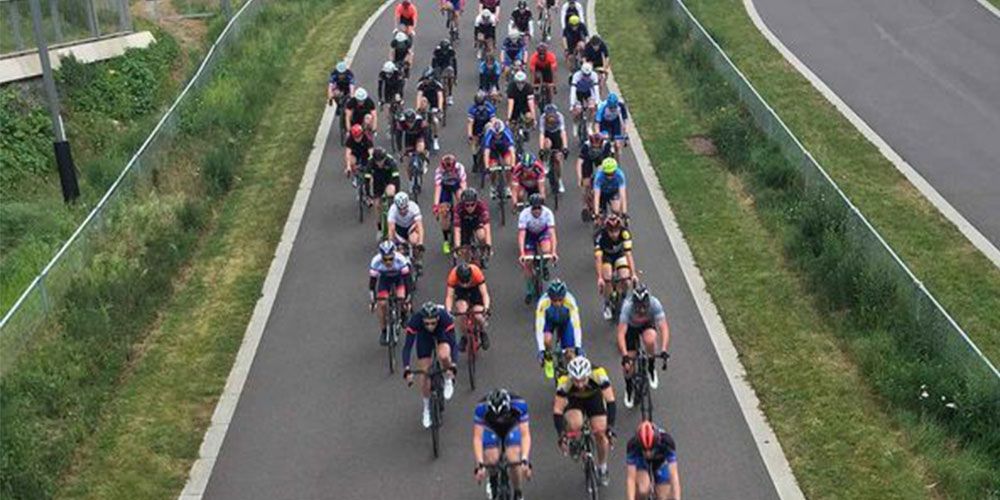 Learning how to ride in a group prior to a sportive is crucial. You will find the event easier in a pack and you'll save energy on the flat when you're fatigued. For more tips on this, check out our guide to cycling safely in a group. As well as group etiquette, you should also make sure that you're up to scratch with 8 Essential Skills Every Cyclist Should Master.
Learn basic bike maintenance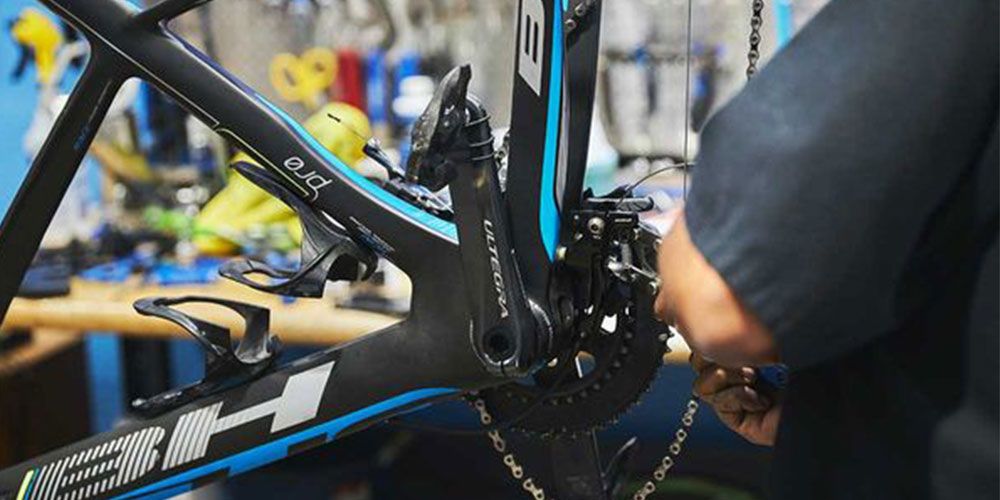 During the event you should always carry spares. Pack the essentials into a saddle/frame bag or your back pockets. You should be carrying at least two inner tubes, a set of tyre levers, a puncture repair kit and patches, a mini pump and a multi tool with a chain link remover.
Going into a sportive you should at least know how to fix a flat inner tube and how to check your tyre pressures. Check out our suggested maintenance skills in 8 Maintenance Tips Every Cyclist Should Know. If you're unsure, take your ride into a local bike shop for a service prior to the event.
Plan your day
Planning your day is just as important as planning your training. Arrive early so that you give yourself plenty of time to get your kit, food and bike ready. To help you feel less flustered make sure to pack the night before using a check list so that you know you have everything you need. If you're nervous on event day use 9 Things To Check Before Every Ride as a checklist of sorts.
Fuel throughout
Making sure that you eat and drink enough is arguably the most important tip on this list. Running out of energy and hitting the wall (a.k.a. 'bonking') on a sportive is far from a pleasant experience. Start with a good nutritious breakfast on event day and then plan your feeds throughout the ride.
Use products that you know work for you and that you've tried in training, whether that's gels, bars, fruit or homemade rice cakes. For fuel, eat little and often, and for hydration make sure that you are getting through at least one 500ml bottle every hour. Most events will have feed stations so be sure to stay well-stocked and keep topping your bottles up.
Don't under dress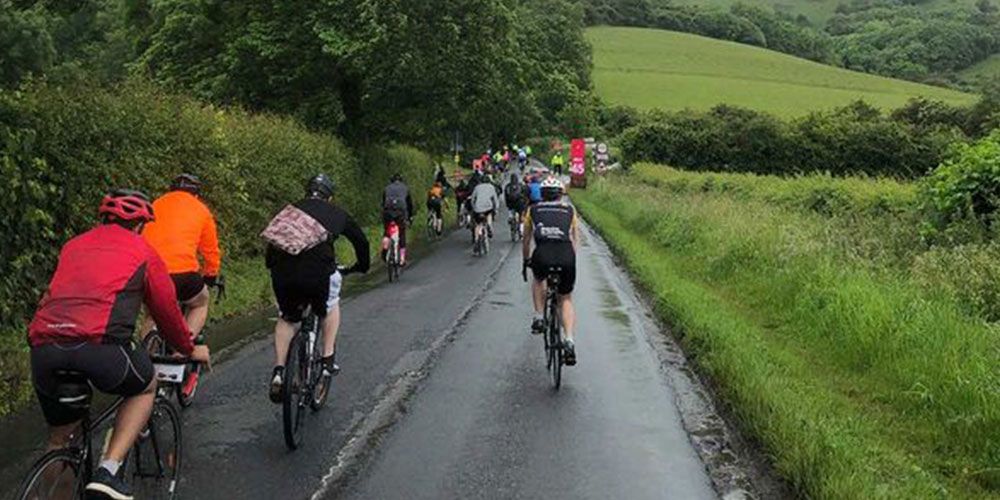 Turning up in just a jersey and bib shorts is very unwise. Even on a sunny day it's a good idea to carry an extra layer, it's the UK after all. Always have a spare rain cape or gilet in your back pocket so that you don't get caught out by one of our famous summer downpours. Even in the heat you can get cool quickly when stopping at feeds and on long descents so make sure you keep yourself warm.
Pace yourself
It's easy to get caught up in the excitement of a sportive but make sure you don't go out too quickly. Break the ride up into manageable chunks so that you can prepare yourself mentally for the challenge. Take it steady at first and then begin to raise the pace towards the end if you have energy left.
Pack a finish bag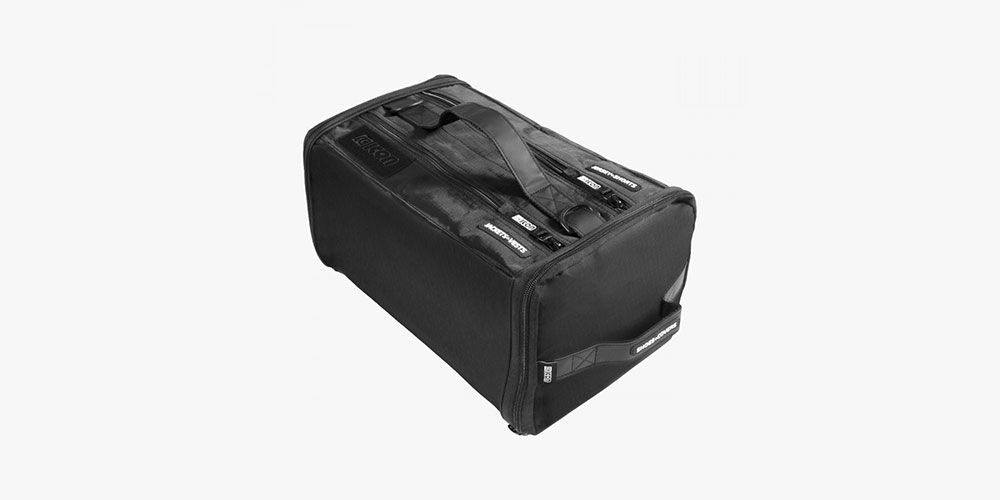 Finish kit is just as important as your ride clothes, especially in bad weather. If you can, make sure that you have a bag with a towel, a plastic bag for your cycling kit and a fresh change of clothes ready for your arrival.
Have fun
Above all else, make sure that you have fun and stay safe. You want to enjoy your first event, no matter how long it takes you – it is not a race. Completing a sportive can be hugely rewarding and you may even come away with a memento to remember the day. Before too long you will have been bitten by the sportive bug and be scouring the internet and cycling magazines for your next challenge.
Related articles you may also be interested in
Interested in sportives? You may also be interested in:
---
With cycling insurance from Pedalsure, you'll be covered for sportives and charity rides as standard. On top of that you can choose to add things like personal injury cover, third-party liability cover, racing cover and more. Get a quote today.