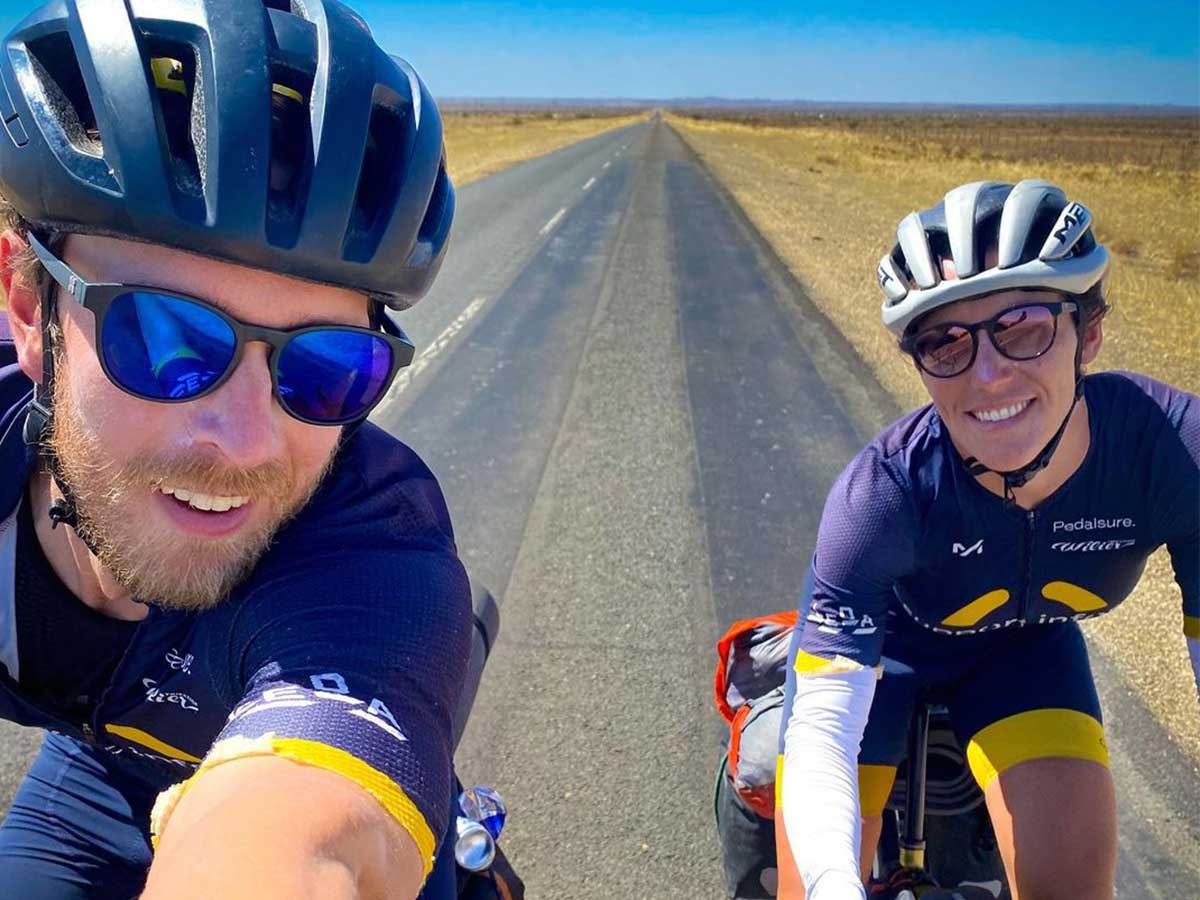 Pedalsure are proud sponsors of Caroline Soubayroux and Dr David Ferguson, a married couple with a passion for ultra endurance cycling who, in September 2021, set off on a truly epic adventure. The challenge? To cycle 29,000km around the globe to set a new record for the fastest unsupported couple to do so and raise vital funds for an NHS charity close to their hearts.
On 17 April 2022, the couple rolled back into London after 6 months on the road and (fingers crossed while it's verified) a new Guinness world record to their names. After a well earned rest we caught up with Caroline and David to find out more about their adventure of a lifetime.
---
How does it feel to be back after 6 months and 29,000 kms of cycling in the legs?
"The first few days were fine. It was great to go back to work and see our friends and family, and to feel safe. But after two weeks, having had some time to let it all sink in, we find ourselves getting emotional at times. It's hard to think about it. As we are currently between two houses and not able to ride much, the transition is challenging, but we will settle back in. Our jobs definitely help us stay grounded."
Tell us what you were trying to achieve
"We were trying to be the fastest married couple to cycle around the world. To cycle around the world you need (amongst other rules) to: ride in one direction (East to West or West to East - meaning you cannot cycle any considerable distance back onto yourself and each leg must be under different longitudes) for 29,000km and go via two antipodal points.
The total distance including flights and ferry must be over 40,075km which is the length of the equator. The easiest (due to tailwind) and fastest (less flying and border crossing) route which most people take is to go via Europe, Russia, China, Australia, New Zealand (antipodal to Spain) and the US. But with COVID we had to innovate and spent much longer in the Southern hemisphere which meant a lot of headwind, crossing the Andes, and Africa."
Tell us about the route you ended up taking
"Due to Omicron, we could not cycle in India as planned, and we had to ride our various legs in a different order to follow the COVID restrictions, but in short it works like this:
London > Venice
Cape Town > Mombasa
Perth > Brisbane
Hawaii > Hawaii (our antipodal point to Ghanzi in Botswana!)
Whitehorse > Miami
La Paz > Buenos Aires
Sagres > London
We cycled 29,276km and climbed 181,182m. The total distance including flights is 75,810km, so well over the required 29,000km to ride and 40,075km overall to travel. Guinness will need to verify all the data before confirming the record."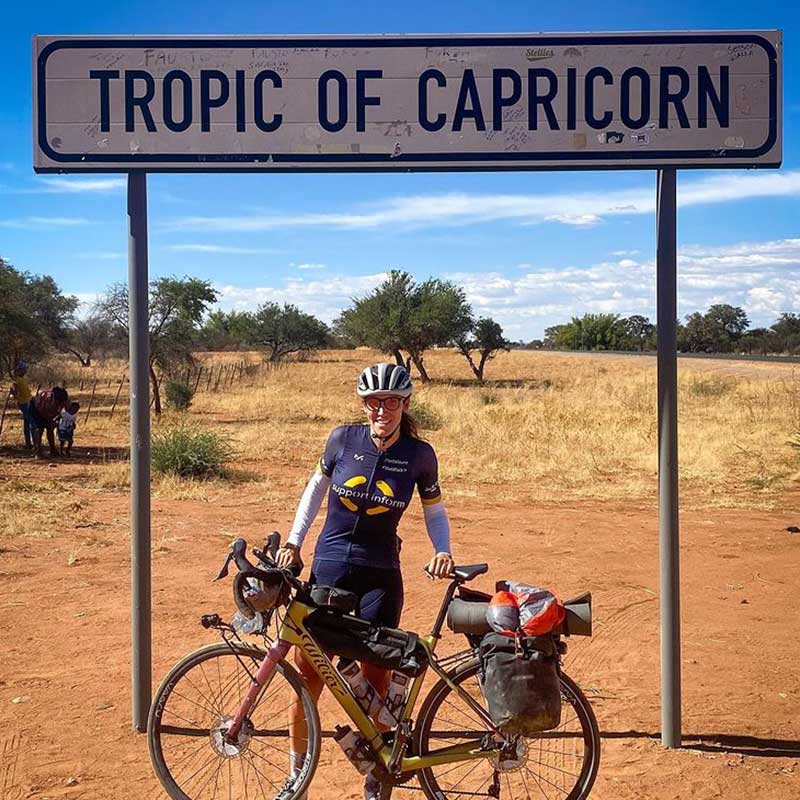 Which countries did you find the most challenging and were there any scary moments?
"Zambia and Tanzania would be top of the list for Caroline due to the rain, bad road conditions, lack of nutritious food and lack of sleep. David also really suffered in Canada and parts of Europe due to the cold. We had many scary moments: we got attacked and threatened by drivers in the US and Australia, we got stuck in a lightning storm at 4000m in Bolivia and in a few more in Africa and Australia.
Wildlife, especially lions and elephants, were a huge threat in Botswana, and Caroline almost got stamped on by one elephant which she counts as the scariest moment of her life. She also almost got hit by a car in the US, and David was very close to be wiped out by an HGV truck in Zambia… Countless times we jumped out of the road away from traffic and we felt thankful things turned out well."  
What was the most difficult part of cycling so far each day?
"Finding places to sleep and eat. We needed to cover a good distance but we were also dictated to by the availability of safe places to rest. Every day we spent time adjusting the route. Mental fatigue was also a challenge, especially when the roads were not safe and we had to be extra attentive to avoid accidents. A tailwind would also have been nice… We had headwinds most of the way!"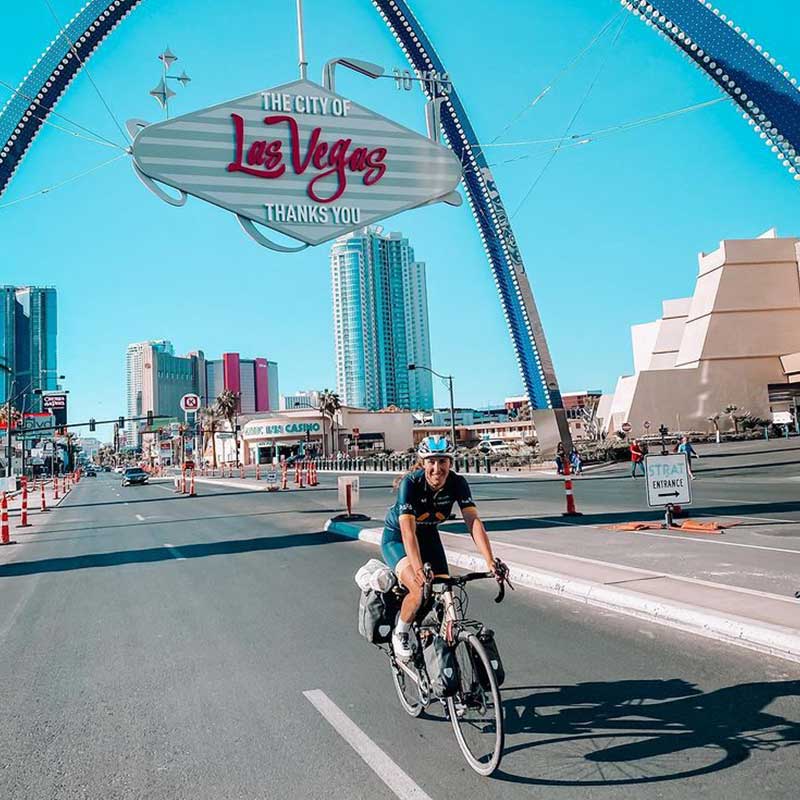 Which countries did you most enjoy?
"Every country was great for different reasons… In Canada, the vast quietness of the Yukon. In the US, Oregon, for the cycling friendly atmosphere and beautiful seaside. We loved Bolivia and the Andes for their breathtaking landscapes. Namibia, Botswana and Australia for the wildlife. And of course, the Black Forest and South Tyrol, for the great bike lanes and because nothing can beat the Alps."
Did you get a chance to experience much of the local culture in the countries you rode through - what were the highlights?
"If you go for big distances everyday, chances are you won't experience as much local cultures as you would if you spent more time in each place. However, everyday we noticed the changes in people's accents, attitudes, in the food we found, in the landscape. One of the great things with our route is that we often went through less explored areas and got to eat and sleep in tiny isolated villages or in trucker stops, pretty much untouched by tourism.
We felt we experienced each country in a very unpolished way and this is what we hoped to achieve rather than tick off "must see" places. Key highlights were Bolivian food, very nourishing and great on the bike; the ease of talk the Americans always showed; the South and West African energy and positive vibes: everywhere we went there was music and vibrant life."
Who seemed the friendliest?
"Due to the high diversity of cultures and people, this is a very hard question to answer. Every country have their contingent of lovely people… and terrible ones! In the US, people will easily come and speak to you and be curious about your ride. In Bolivia, they might be shy at first, but they will be the most helpful people in the world when needed. In Zambia, everyone will want to say hi and shake your hand. One thing is however certain, the nicest drivers are in Spain: we felt very safe on the road there."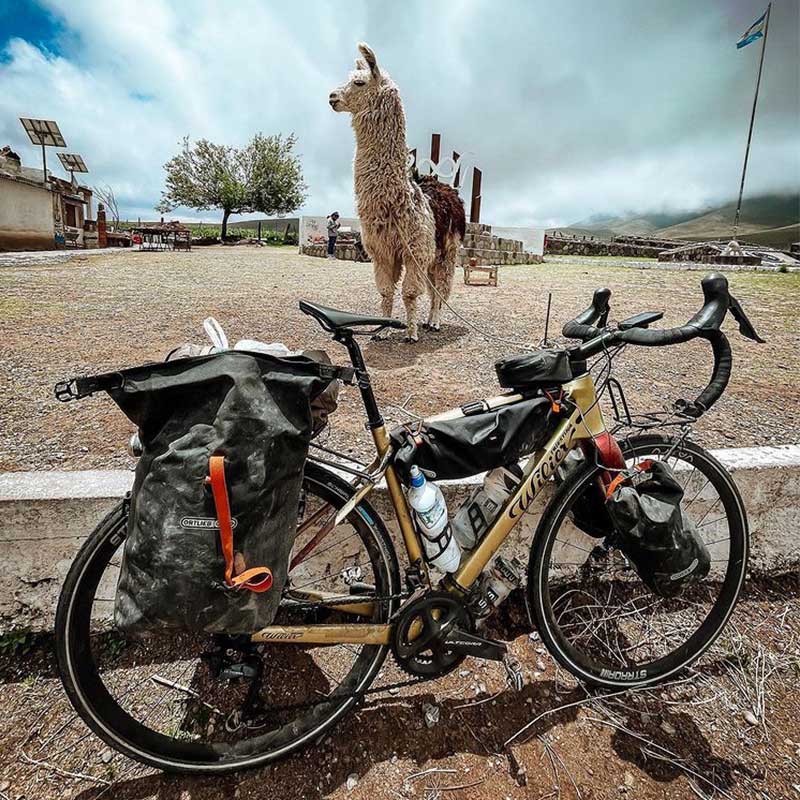 Which tool in your saddle bag did you use the most?
"The pump, because we got so many punctures! We did not regret the pump we chose which was a mini floor pump by Pro Bike Tool, much easier to use. Otherwise, our dynamo lights by Exposure and our head torches were incredible and indestructible. They made us feel very safe."
What one thing did you wish you had brought with you on the ride?
"A thicker heavier sleeping bag for Canada and an extra pair of bib shorts. And a cycling cap for Caroline, to avoid the tiger stripes helmet marks!"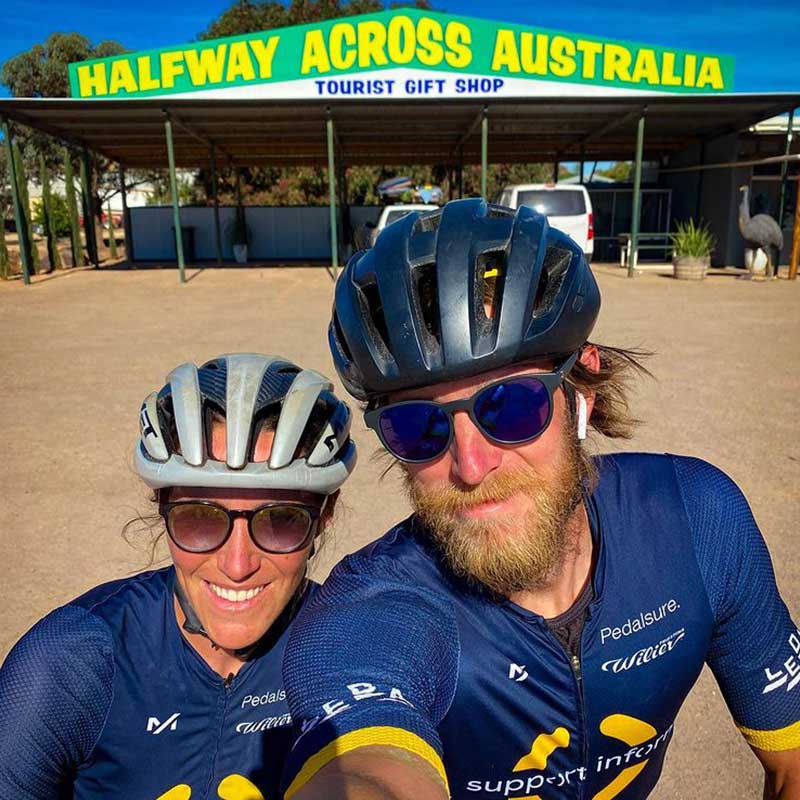 Did you learn anything new about yourselves?
"We work great as a team. Of course we are married and love each other, but that does not mean you can work together efficiently. We learnt what make us tick, how to avoid the worst of situations, how to help and push one another to achieve to the best of their abilities… and how to forgive one another too!
We have both grown a lot from the trip and our ability to deal with stress and find solutions to apparently desperate situations has really increased. Issues at work should feel much less troublesome in the future!"
What would you have done differently now you've completed the challenge?
"In the context of COVID and with our full-time jobs before and after the ride, we don't think we could have done anything differently really. The fact we could finish and are safe is all that matters to us."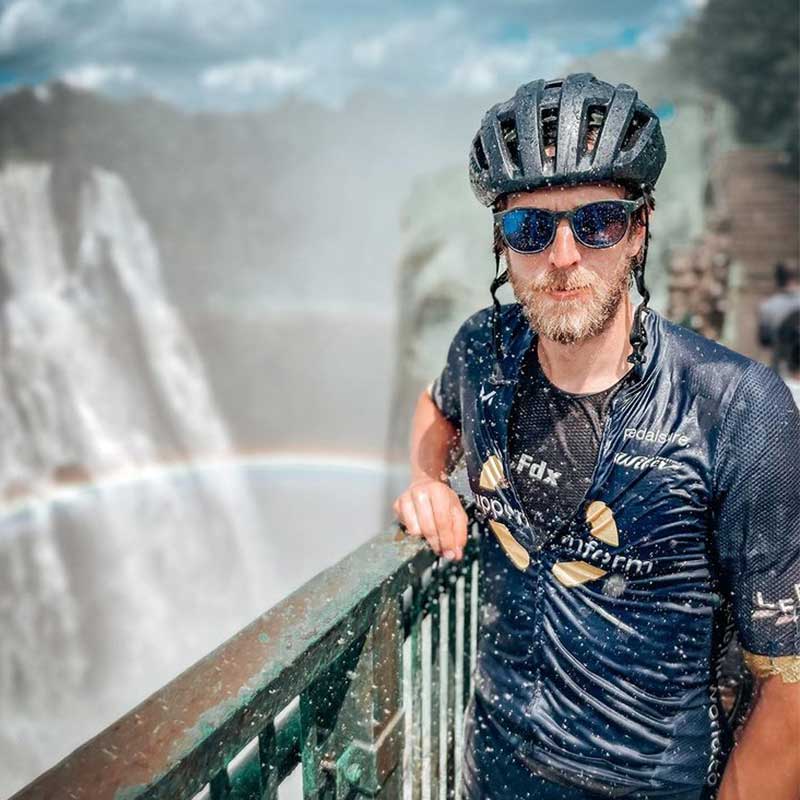 What's the most important piece of advice you would give to anyone thinking about taking on an ultra-endurance challenge like this?
"Don't over-prepare or over-think or you will never go. In today's world, adventuring has been made much easier by having access to Internet and maps and translation tools. Wherever you plan to go, you will find a way to communicate and sort any problems you might face. So do not overthink and just go. Problems will come whether you prepared for them or not anyway so just work on your confidence and believe in your abilities. Oh, and also, do not pay attention to people who have never attempted such a ride before…"
What's next for you two on two wheels?
"Caroline is organising Race Across UK so making sure the route is on point and helping racers prepare is going to use most of her summer's weekends. We also have a lot of countries and places on our bucket list: Japan, Columbia, Iceland, The Pamir Highway… to name a few! Our adventures are far from over."
Finally, describe your experience in 3 words.
"DO IT AGAIN!"
---
A massive congratulations to Caroline and David from all the team at Pedalsure. A quite remarkable achievement!
Looking for extra security on your next long distance cycling adventure? We offer comprehensive insurance for all types cyclists. Get a quote today and get covered in minutes.