Keep Your Bike Safe With Hiplok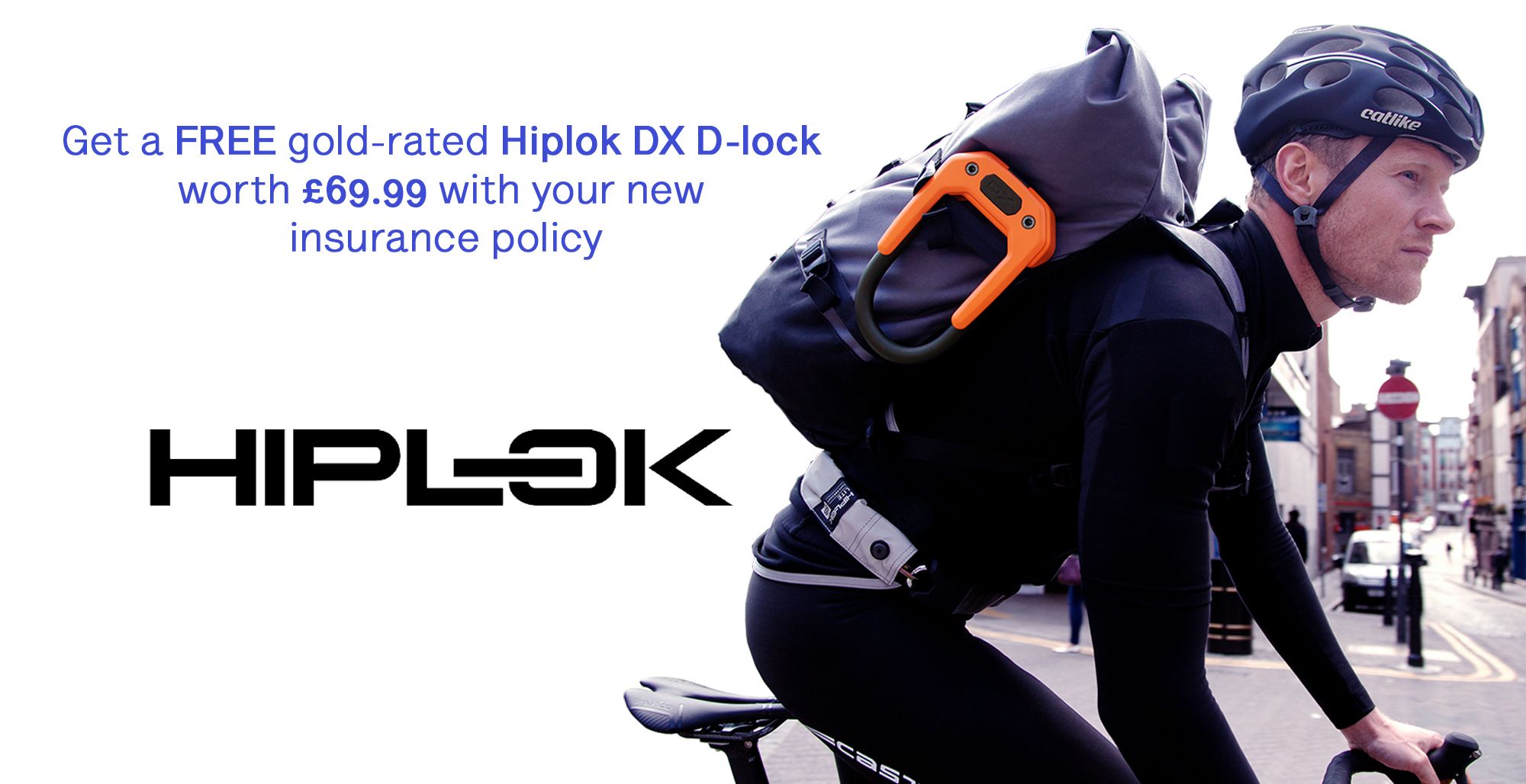 We've partnered with Hiplok to help you keep your bike as safe as possible
If you're a new customer insuring a bike worth £1,500 or more with us and choose to pay for your policy on an annual basis, we'll give you a free Hiplok DX D-lock worth £69.99 with your policy.
The Hiplok DX is a gold-rated maximum security D-lock from Hiplok featuring a double dead lock and anti-rotation locking. As a sold secure gold-rated lock, it's one of our Approved Locks for locking your bike outside of the home when your bike is covered by one of our policies.

Terms and conditions
Offer will not be applied if you take out a policy using any other promotion or discount with Pedalsure.
To be eligible for this offer you must (i) purchase an insurance policy with us where at least one of the insured bikes has a replacement value of not less than £1,500, and (ii) elect to pay the premium for your policy on an annual basis.
Offer applies to new Pedalsure customers only.
Only one Hiplok DX lock per customer, irrespective of the number of policies you may have with Pedalsure.

Your lock will be sent to you as soon as reasonably practicable following the date which is 14 days from the day of purchase of your insurance policy (the "cooling-off period"). If you cancel your policy within the cooling-off period, you will no longer be eligible to receive the lock.
If you cancel your policy at any time after the cooling-off period we reserve the right to reduce your refund amount to reflect the retail value of the lock at the point at which it was supplied to you.
Your lock will be supplied to you directly by Hiplok, "the supplier". The colour of the lock sent to you will be decided by Hiplok at its discretion.
Neither Pedalsure nor its respective group companies, nor its respective affiliates, agents, officers or employees will be liable for any damage, loss, liabilities (including direct, indirect, incidental, consequential or punitive damage) injury or disappointment incurred or suffered by you as a result of your use of the lock, or as a result of any act or omission of the supplier or its negligence.
---