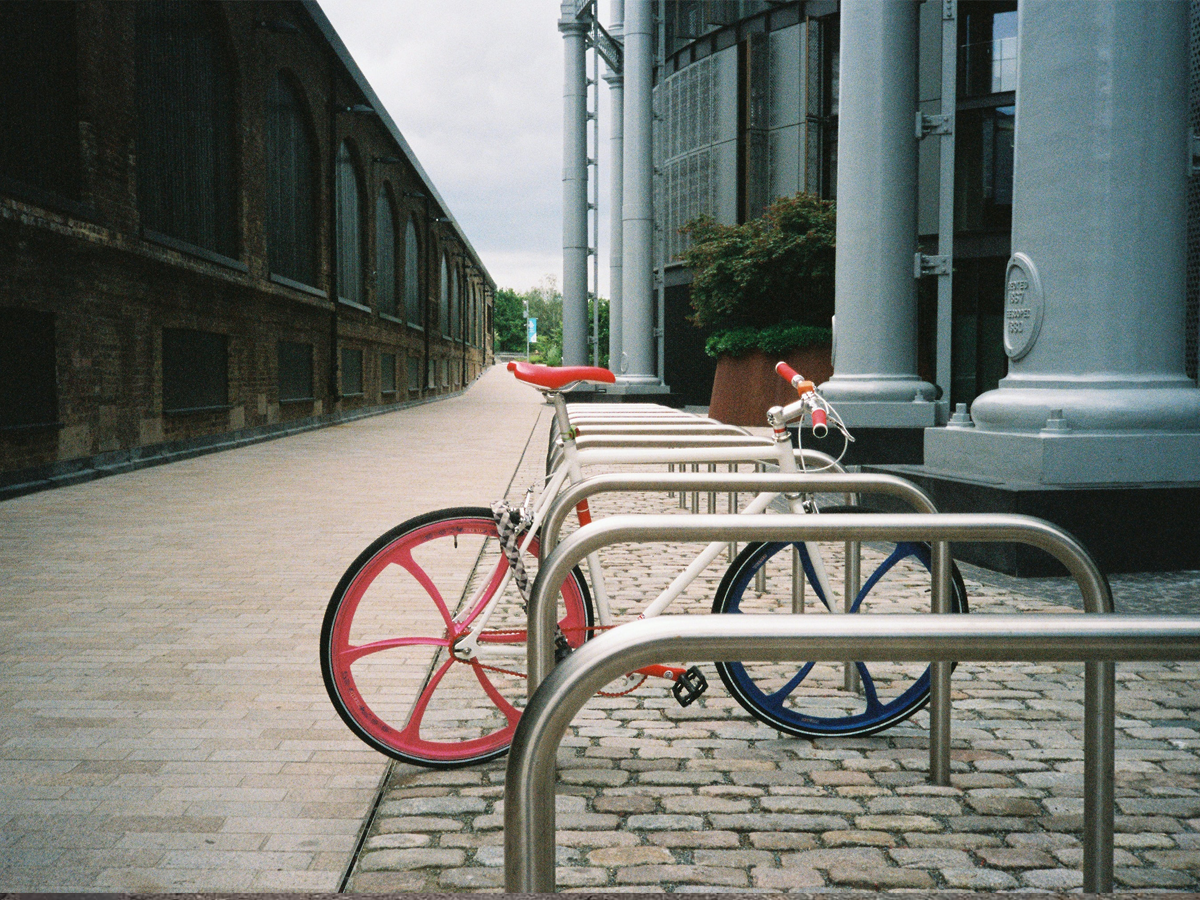 With an increase of bike users in the UK in 2020-21, bicycle theft is becoming a more and more pertinent problem. Bike thieves are more brazen than ever and the risk of falling foul to one of these criminals is rising due to the lack of policing in this area.
In fact, a report by the Telegraph in 2020 cited Home Office data showing that only 1 in 50 bike theft cases are being solved. They claimed that seemingly easy cases are being brushed under the carpet too, even if there are phone recordings or CCTV footage of the crime.
As a result, countering these criminals is a job that is being left to us, the riders. That certainly doesn't mean trying to be some kind of vigilante, far from it, but we hope to supply you with the tools and knowledge you need to be at less of a risk from cycle theft. This includes knowing where in the UK bike theft is most prevalent and with the help of the most up to date data on the subject, we'll shine a light on these areas, attempting to explain why the rate is so high (or so low) and what you can do to prevent it.

Worst places for bike theft in the UK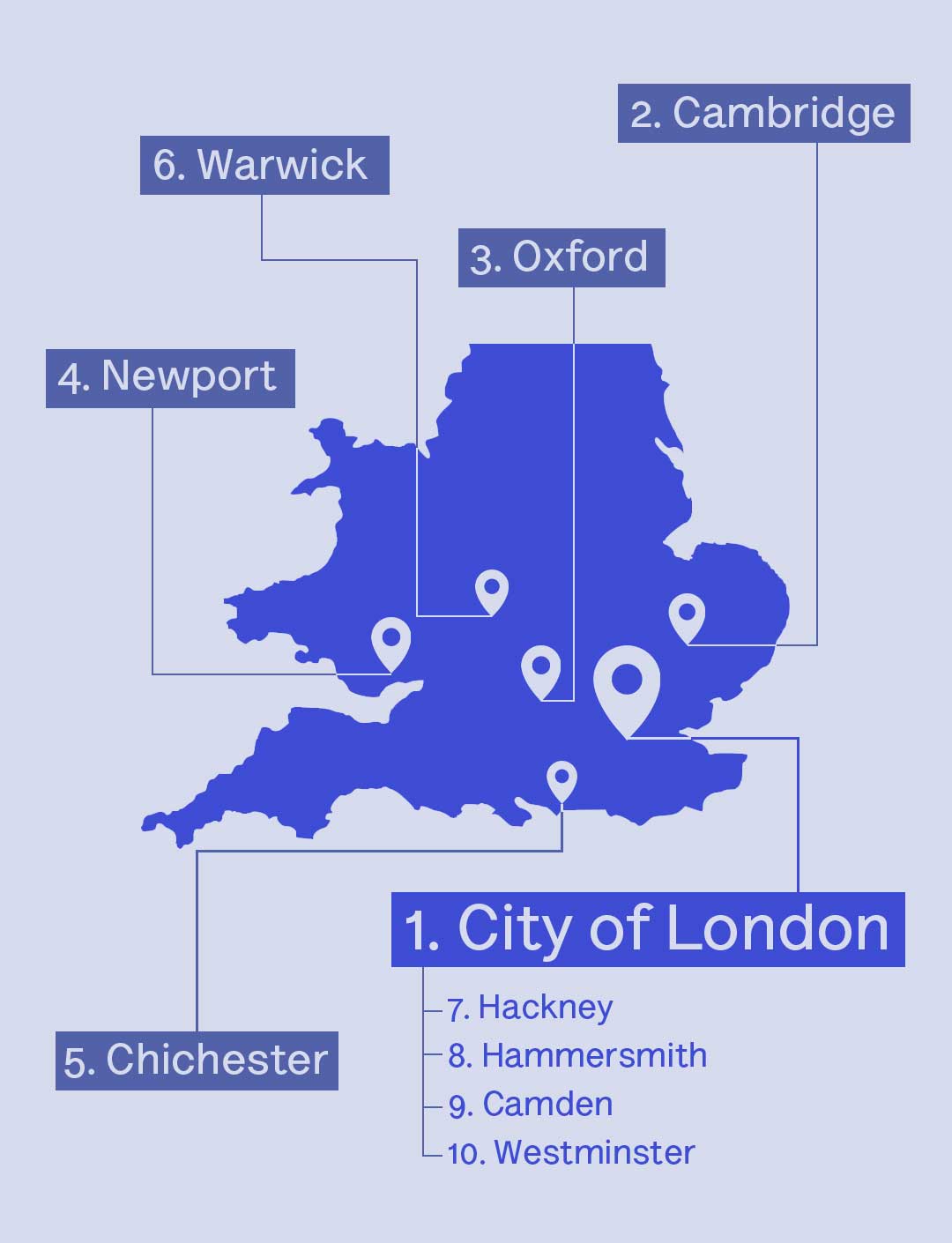 So where is the worst place in the UK for cycle theft? The most recent data on the subject was compiled by fellow cycle insurers Yellow Jersey, who worked with the British Transport Police and a year of police data to find the hotspots of bike theft in England, Wales and Northern Ireland.
The data shows that the City of London is the top area for bike theft in the UK, but this is an anomaly of sorts due to the low level of residents who actually live there versus the 300,000 + people who commute into the area. London districts occupy half of the top ten worst areas which is no real surprise, especially when you take Stolen Ride's London stolen bike map into account.
The other five areas are all university towns with Cambridge and Oxford rounding out the top three. In fact, the study also found that some of the riskiest places to leave your bike in the whole of the UK were in and around the Kingston University Campus and parts of the Queen Elizabeth Olympic Park – an unfortunate legacy from our great games.
Top 10 areas for bike thefts per person:
1.      City of London
2.      Cambridge
3.      Oxford
4.      Newport
5.      Chichester
6.      Warwick
7.      Hackney
8.      Hammersmith and Fulham
9.      Camden
10.    Westminster
If you live in one of these areas and are anxious about being apart from your bike, a good place to start is at our 12 ways to stop your bike getting stolen. Master these steps and stay ahead of the pesky thieves.
Universities
It's clear that there's a huge bike theft rate in university towns, and this is because of the high number of bikes within these cities. Students operate on a tight budget so often use bikes as their primary mode of transport. Unfortunately, this budget rarely extends to the security of the bike itself and the importance of having a good bike lock can be overlooked. You often see the sad, remnants of a bike frame on campus held to an object with a pitiful cable lock.
Our friends at Hiplok conducted research into the top university bike theft hotspots and unsurprisingly their findings, using data from Police.uk, are in line with other similar investigations. Oxford and Cambridge had the highest rate of bike thefts on campus with York, Sheffield and Leeds rounding out the top five.
Of course, not all the thefts would have been students, but Hiplok found that bike thefts increase around the start of term in September, fall during Christmas and then increase again during the spring term. This, plus the fact that the universities in the top five are some of the largest in the country, shows that more students = a higher bike theft rate.
So, if you're a student – or a parent of a student – who is hoping to use a bike as their primary mode of transport, make sure to pack a secure bike lock in between the beer and bed linen before you leave home.
Cycle friendly cities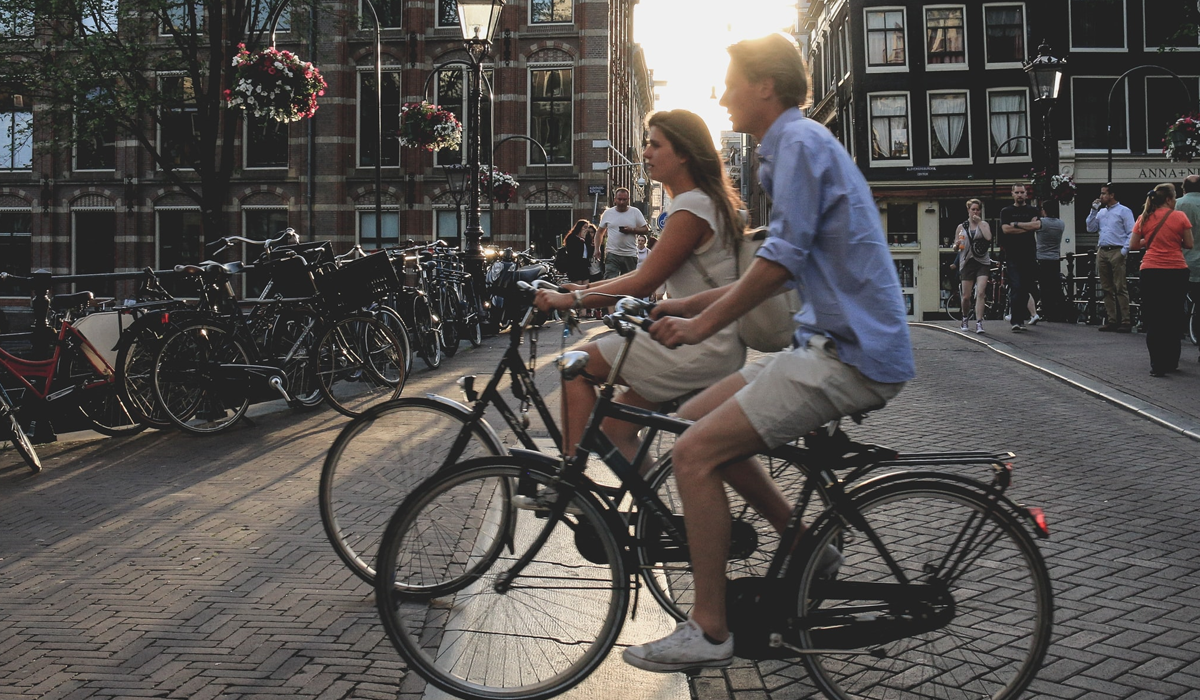 After all that doom and gloom, let's take a look at some of the safest areas in the UK to be a cyclist, according to statistics. Earlier this year the legal firm True Solicitors LLP compiled their own data to create a series of infographics on the safest cycling cities. The metrics include the cost of public transport, the number of road accidents, cycling rates and of course bicycle theft.
Their statistics found that Lancaster, Exeter, Brighton and Hove and Swansea scored highly on bike theft (which means low levels of bike theft) with Bradford having the lowest rate in the country. In the past year, there was only one theft for every 1,934 people (in Oxford it's one in 81), thanks in part to changing attitudes towards cycling in the city which was visited by the Tour de France in 2014 and has since hosted stages of the Tour de Yorkshire.
Locks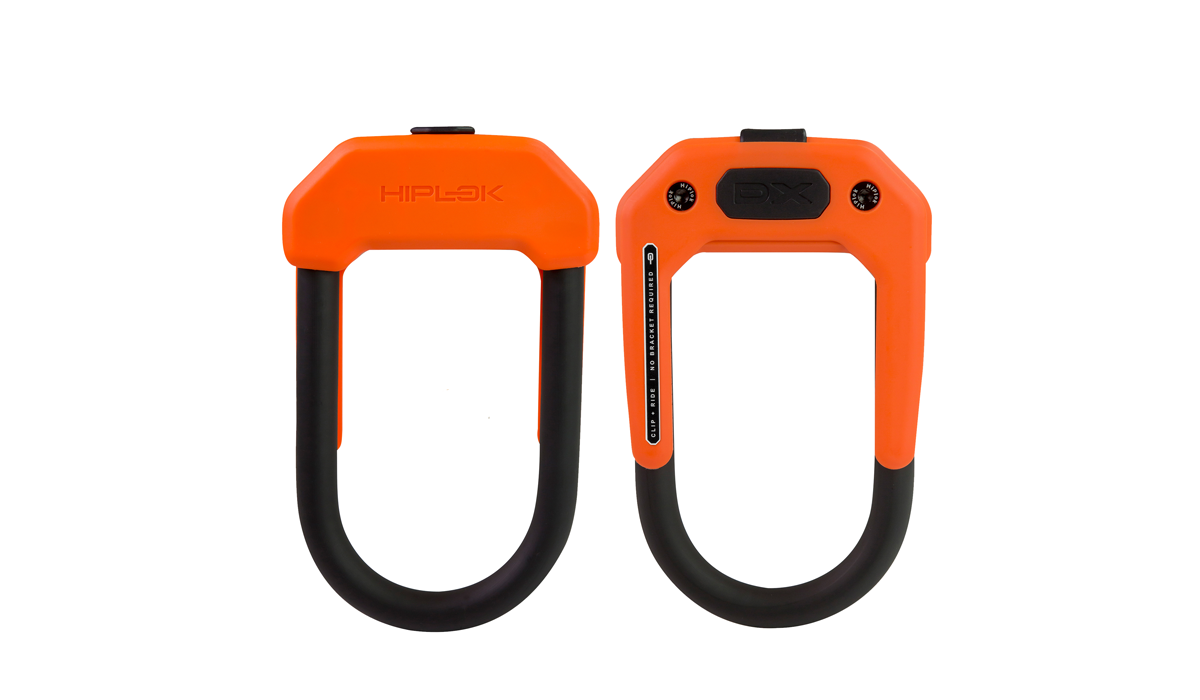 The best place to start in the prevention of bike theft, even in one of those ten most at risk areas, is getting a suitable lock and learning how to secure your bike effectively. Getting the right lock, or combination of locks, can not only make your bike more secure but can also deter would-be thieves. At Pedalsure, we use an Approved Lock List and suggest that you should always aim to get a secure lock/locks that matches the value of your bike.
It is also vital that you learn how to lock your bike securely. The strongest and most economical way of doing it is by using a combination of D-locks and cables to secure your frame and wheels to an immovable object. There are various other top tips you can follow to make it even more difficult for criminals to part you from your bike.
Our guide to locking your bike the right way is a deep dive into this world and has everything you need to know about the types of bike lock, how and where to use them, and our insurance policies. Yes, a heavy-duty lock is quite a hefty up-front cost (especially for a student) but consider: can you afford not to have one?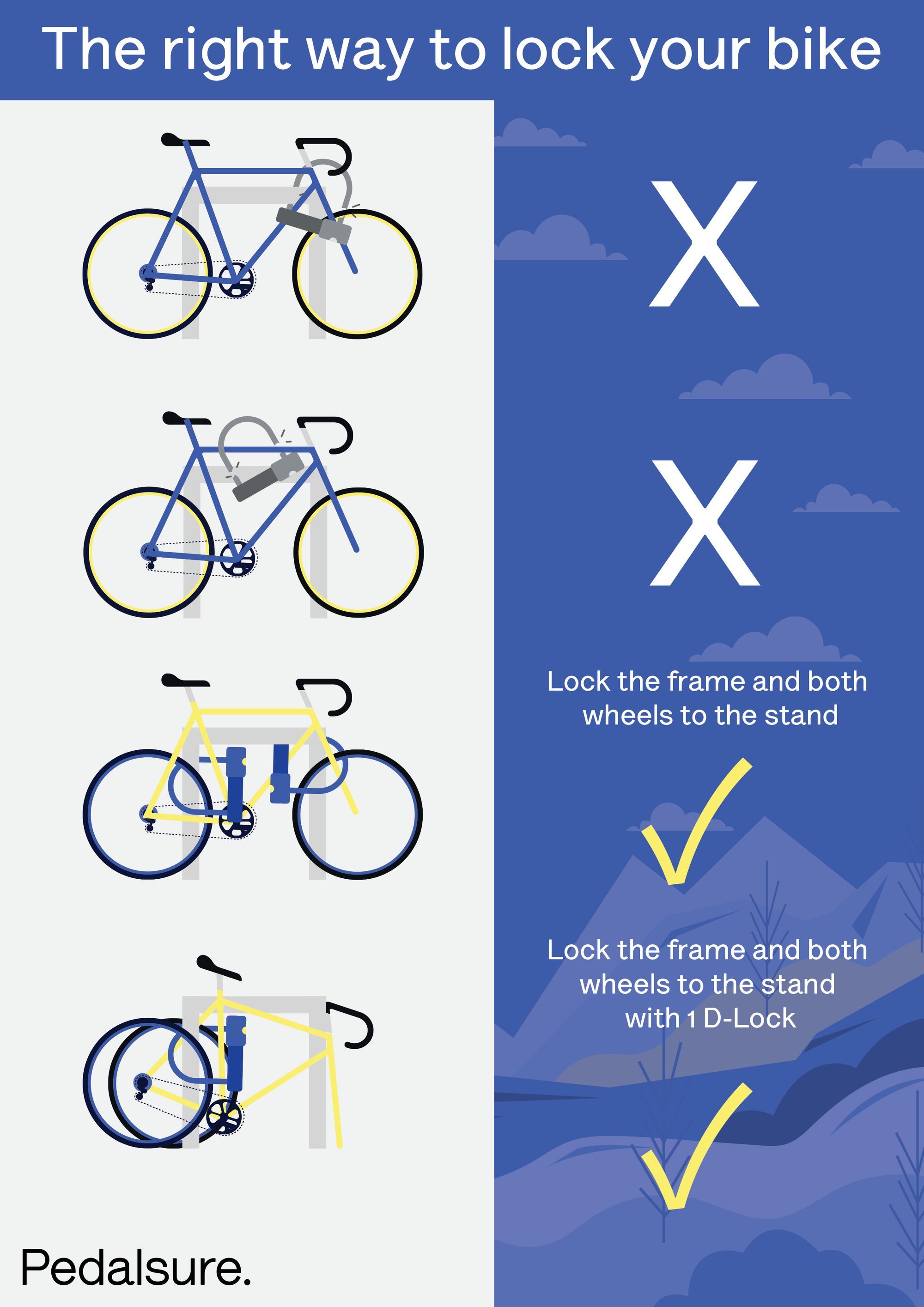 Insurance
Taking out a cycle specific insurance package from Pedalsure is another way you can ease the stress of bike theft. Our insurance even covers your bike lock with a few stipulations. The bike must be secured to an immovable object and cannot be left in a place other than the insured location for more than 12 hours, unless stated otherwise. Provided you follow these instructions each and every time you lock up your bike, if the worst were to happen, we will cover you against the theft of your bike. Unlike home contents insurance, our policies cover your bike to the maximum whether it's locked out on the street or tucked away at home. No matter the outcome, we have your back.
For more information on our competitive cycle insurance, take a look at the other articles on our website and our policy documents. Wherever you live in the UK, we have your back and can help you in the battle against cycle theft. Start your journey today with our simple 30 second quote process.
Need something to secure your bike? You can now get a diamond-rated Hiplok DX D-lock worth £79.99 for just £30 with any new insurance policy – just one of many ways we protect both you and your bike.