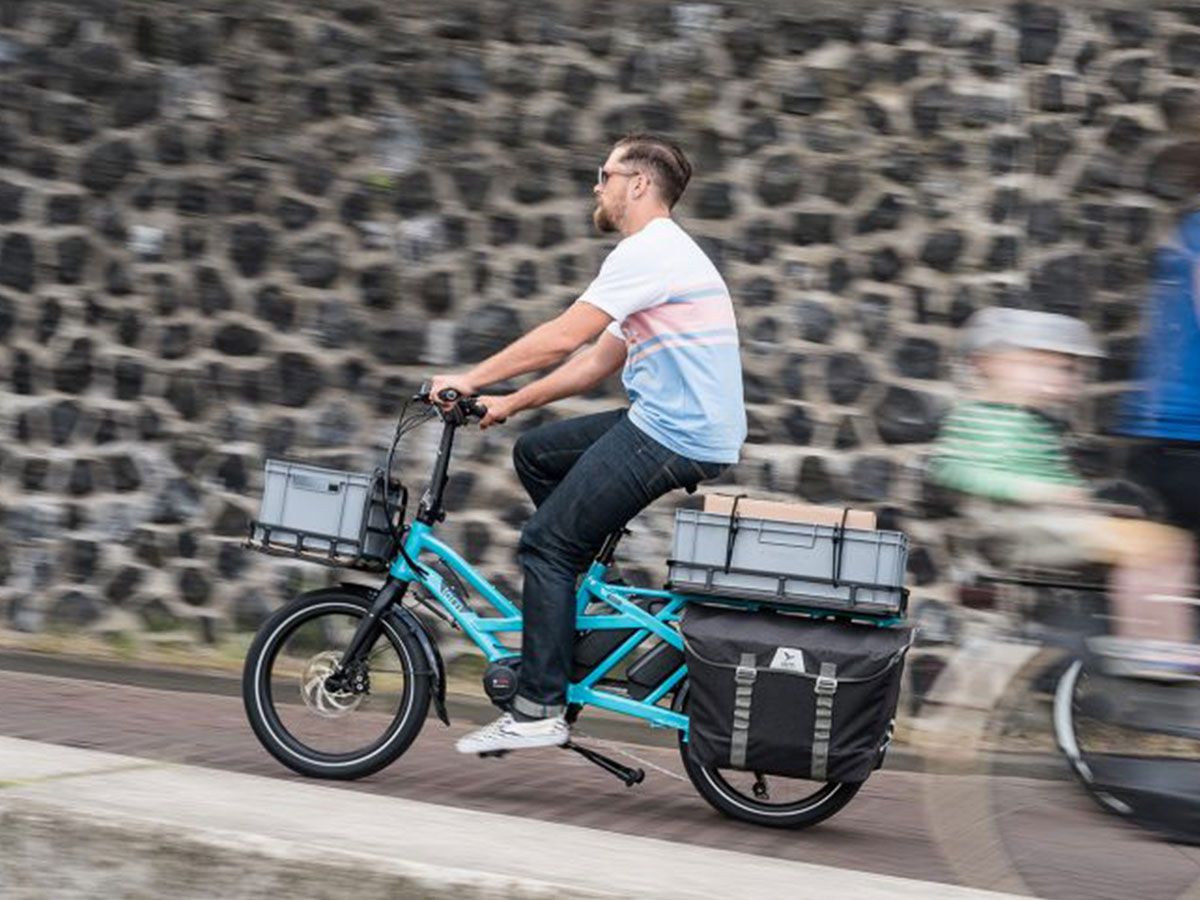 Published: December 2022
The average length of a car journey in the UK is less than 10-miles, or if you look at it from our perspective, a distance easily covered by bike. Imagine never having to wait in traffic, not worrying about finding a parking space and also getting a gentle workout in at the same time. That's what a cargo bike offers.
Most cargo bikes have an electric motor to assist you, which means you don't need a high fitness level, or have to worry about arriving at your location out of breath. The basic premise of a cargo bike is that you're able to carry lots of stuff with you: kids, shopping, parcels, you name it. Almost as much as you could in a car, but way more fun.
We're not saying that you should go ahead, sell your car and just buy a cargo bike instead. But, it is worth considering investing in a cargo bike, using your current car less, getting fitter, and helping to do your bit for the planet at the same time!
To get you started, here's our guide to cargo bikes.
Need to protect your cargo bike against theft, damage and loads more? We offer cargo bike insurance designed exactly for that.
Table of contents
---
Types of Cargo Bike
Most cargo bikes on the market are motor-assist to aid carrying your load. The most common kind of electric bike in the UK is an EAPC ('electrically assisted pedal cycle'). Here, the motor only engages when the rider starts pedalling, 'pedal assist'. Current UK e-bike regulations state that a motor can provide up to 250 watts of assist, to a speed of 15.5mph. Once you exceed a speed of 15.5mph, or start to freewheel, the assist simply cuts off.
In most cases, we would recommend that you choose an electric cargo bike (e-cargo bike). It will make your overall experience much more pleasant and further the potential of your bike. While there are many different variations on the market, the three main types of cargo bikes are front loading cargo bikes, rear loading cargo bikes, and commercial cargo bikes.
1. Front Loading
Front loaders can be split into two categories. The first is a typical town bike with a basket on the front, the second being more heavy duty.
Front loaders require less thought when it comes to loading the cargo as the placement of weight has a minimal impact on the handling of the bike. "Town bike" front loaders are relatively simple to store, but for the bucket style bikes size quickly becomes an issue. They are much longer and often wider than other types of cargo bikes which makes storage or transportation more of a problem.
There are many variations of the front loader, including:
Utility/City Bikes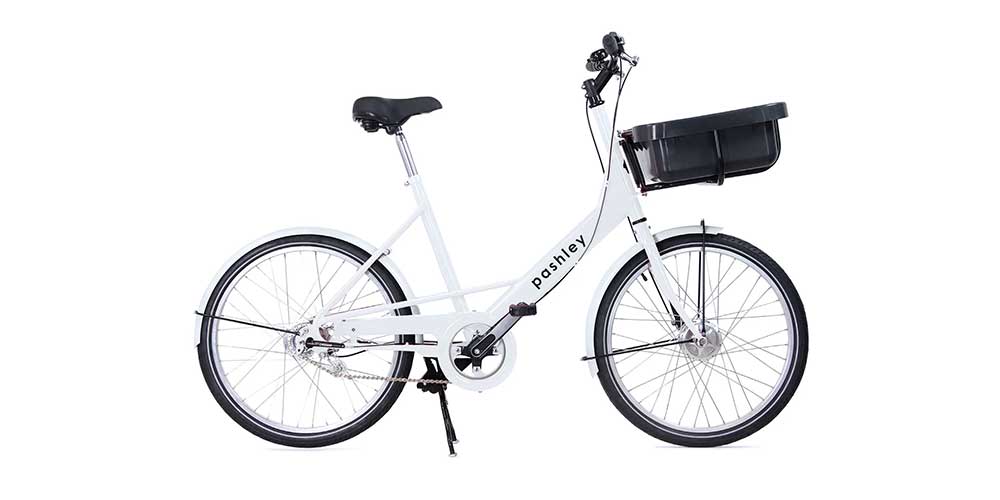 Traditional bicycles with reinforced frames to carry more weight, think of a Dutch style city bike with a basket on the front, but with a little more space. These are designed for day to day use and are more for carrying smaller loads, such as a backpack or shopping. Most of the time, an electronic version is not necessary.
Cycle Trucks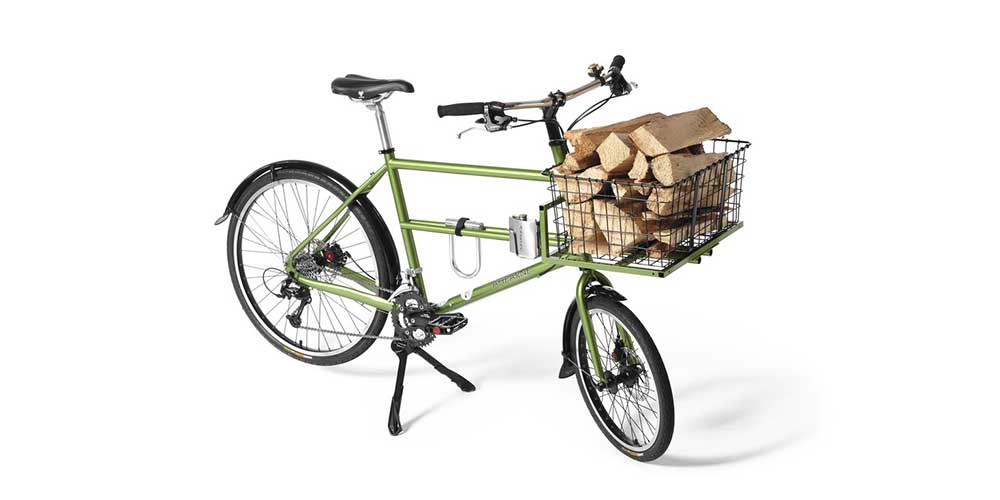 A flat back truck in reverse and you have a cycle truck. They are designed with a smaller front wheel to make space for a flat rack which can either have a box, or any cargo added. These are very similar to utility or city bikes, but with a slightly differing geometry, and usually more storage.
Long John/Bucket Bikes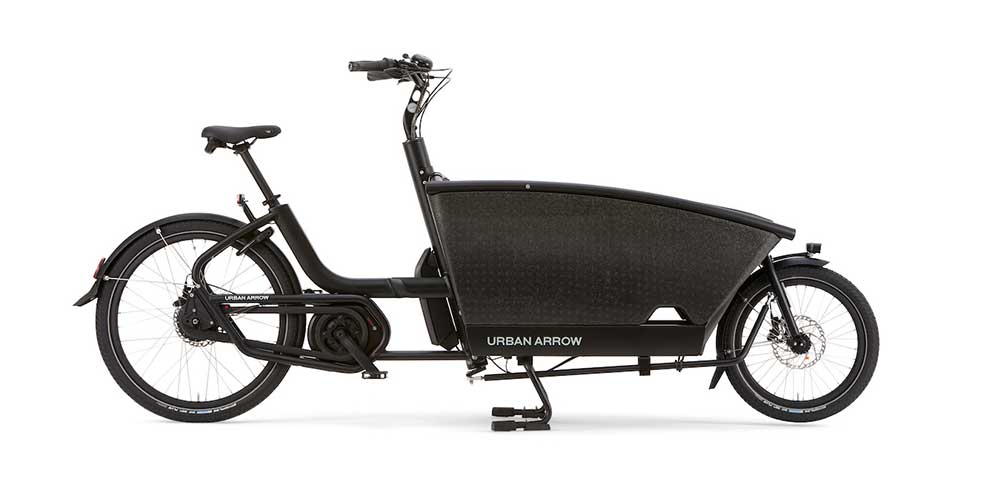 'Long John' cargo bikes are heavy duty front loaders that traditionally have bucket style storage space in the front. They are regarded as being better for carrying bulky objects. They are also the best choice for carrying children, with plenty of adaptations available to secure a safe ride for young ones. If you ride in all weather conditions, a front loader is better as it is easier to protect your precious cargo, whether that's children or your weekly shop, with a weatherproof cover.
Bucket bikes are heavy, but have endless potential when it comes to carrying anything at all. If you're buying a bucket bike, you'll probably want it to be electric though!
Cargo Tricycles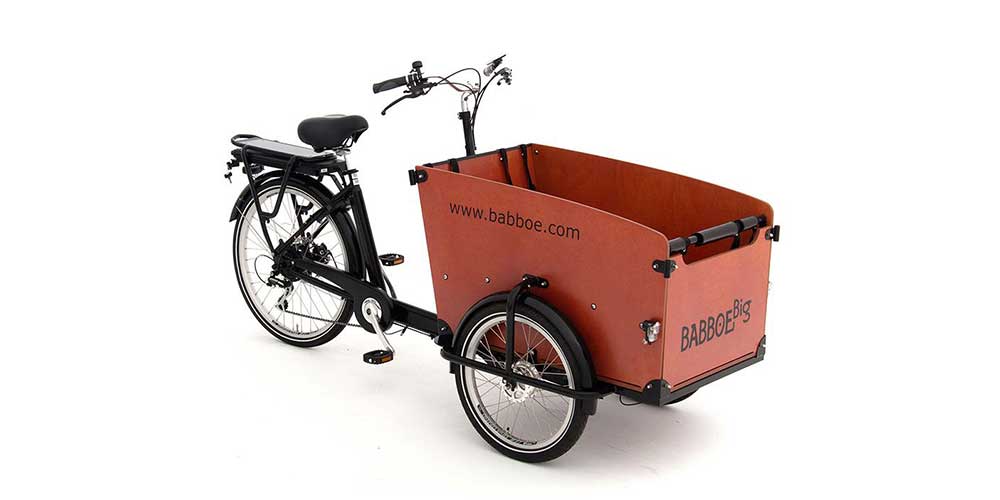 Cargo tricycles are just three-wheeled variants of the Long John. Three wheels makes them extra stable when riding and they've quickly become a popular choice for parents transporting their kids to and from school.  
2. Rear Loaders / Long Tails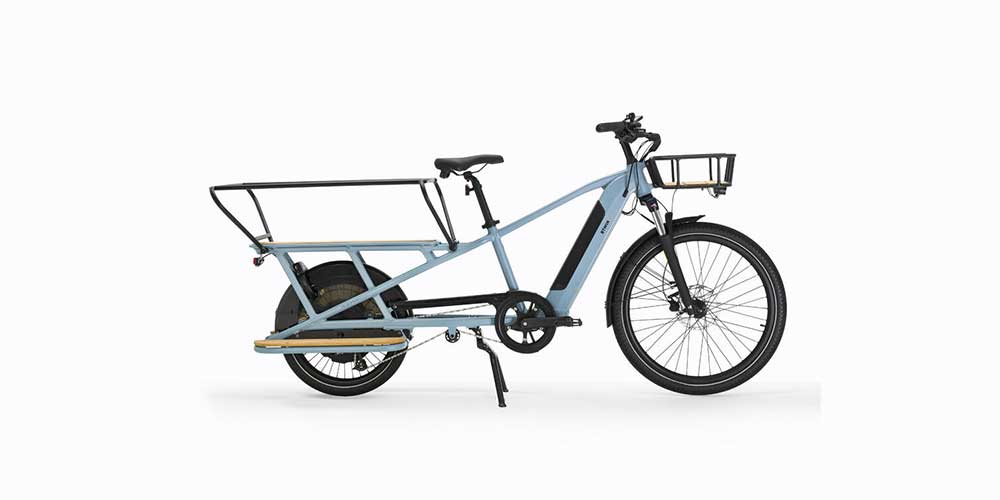 Long tail cargo bikes look exactly like a normal bike, just with a slightly longer tail. They are the better options for those tighter on storage as they are not as wide as their front loading counterparts. Also, when you're not carrying any cargo, they offer a more familiar riding style which adds to their versatility.
Rear loaders are designed to carry both cargo and children, but bear in mind that they cannot carry as much weight as front loaders. When loaded with a lot of weight, they can feel a little uneasy to handle at first.
This style of cargo bike is great for children who are old enough to hold themselves upright, but aren't yet capable of riding long distances with you.
3. Commercial Cargo Bikes / Trikes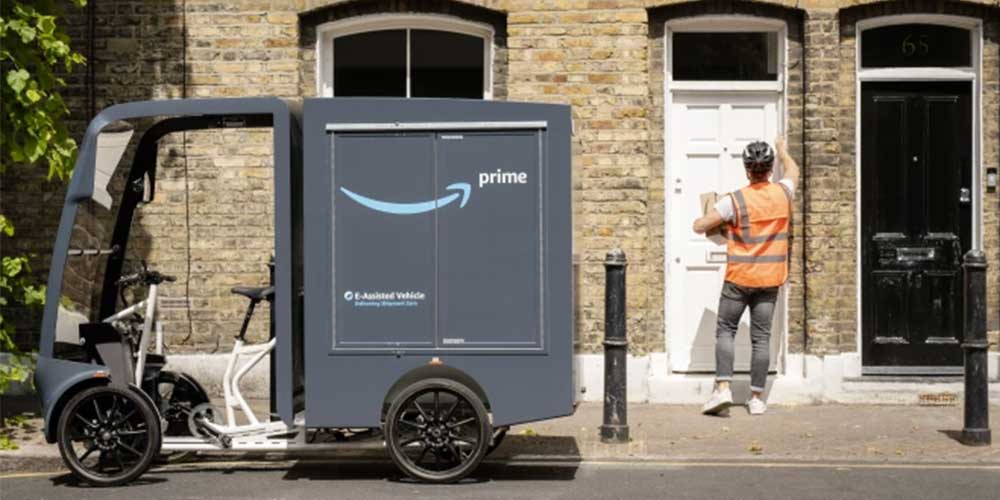 Commercial cargo bikes are starting to become more and more common, especially in cities. Often in the tricycle style to aid stability, these cargo bikes are designed with the idea of "micro mobility" and replace traditional gas-fuelled cars. Despite their size, they still qualify as "e-bikes" under the law.
In 2020, almost 2,000 cargo bikes were sold for commercial use. They come in all different shapes and sizes. Whether it be the local bakery carrying their fresh produce in a bucket style front loader, or Amazon who have started using what can only be designed as a mini-delivery van.
How Much Do Cargo Bikes Cost?
Prices for a cargo bike can range from a few hundred pounds, to the price of a small family car, especially for the commercial models described above. For a smaller "town" cargo bike, you will be looking at the few hundred pounds mark, for a bigger and heavier duty cargo bike, expect to pay at least £1,000. If you're wanting to buy an electric version prices can range anywhere between £1,500 and £8,000.
While it can seem like a large lay out for a bicycle, it's worth remembering that it is something that will replace your car for a majority of your shorter journeys. When you add up the total that you'd spend in fuel, parking, insurance and general wear and tear for an equivalent trip in the car, a cargo bike is a great investment.
Also, you're getting exercise and spending more time outdoors. That's priceless!
Do You Need Insurance For A Cargo Bike?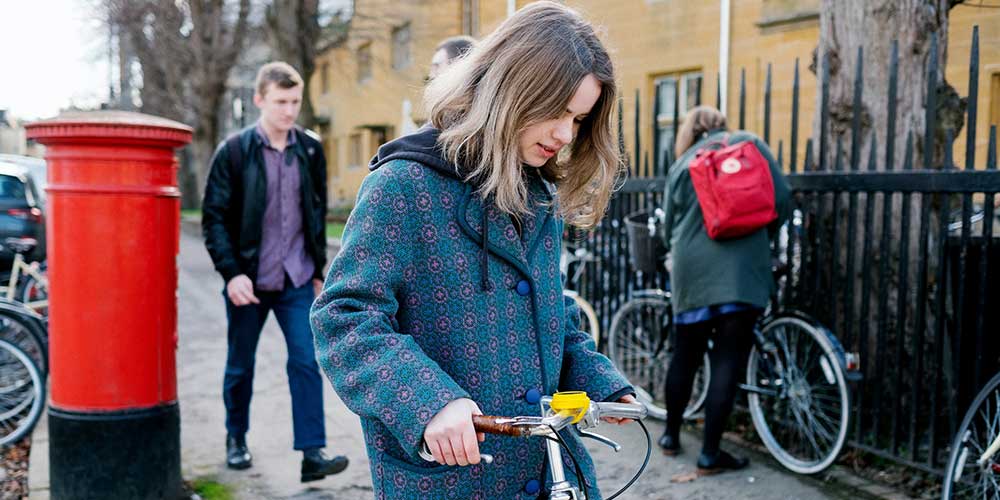 There is no legal requirement to have insurance to ride a cargo bike, provided the cargo bike does not fall foul of the regulations we have in the UK for determining what constitutes an 'electric bike' (i.e. an EAPC).
The basic requirements are that:
The maximum power output of your cargo bike's motor must not exceed 250 watts; and
The motor must not assist pedalling above 15.5mph or 25kph.
There are some other requirements as to whether you need insurance for an electric bike so make sure you check the rules. Most e-cargo bikes sold through retailers in the UK will fall within the rules, there are exceptions however. 'HS' or 'High Speed' model variants are becoming increasingly popular, many of which provide motor assistance up to 45kph. Always double check your cargo bike's specification with the retailer before you buy.
If your e-cargo bike falls outside of the requirements then it will likely be classed as a motor-powered vehicle and it will be subject to any associated registration, tax, licensing and insurance to use on the roads.
While insurance isn't mandatory, cargo bikes can be expensive and many cargo bike owners choose to protect their bike with specialist cargo bike insurance. Public liability insurance is also a consideration for many cargo bike owners given their size.
What Does Cargo Bike Insurance Cover?
Specialist cargo bike insurance from Pedalsure will cover your cargo bike (up to a replacement value of £15,000) against the following. You can pick and choose exactly what you want when you get your quote.
Theft: You'll be covered if your cargo bike gets stolen, whether at home or out and about.
Damage: We'll pay for the repair costs if you've accidentally damaged your cargo bike or they've been vandalised.
Accessories: Choose to cover your accessories and personal items up to £1,000 to protect your helmet, lights, panniers and more.
Personal injury: Injured yourself after an incident out on the road? We can provide compensation to help ease the pain.
Public liability: If someone else gets injured or their property damaged while riding your cargo bike and they think you're to blame, we'll cover you if they make a claim against you.
Other Considerations When Buying A Cargo Bike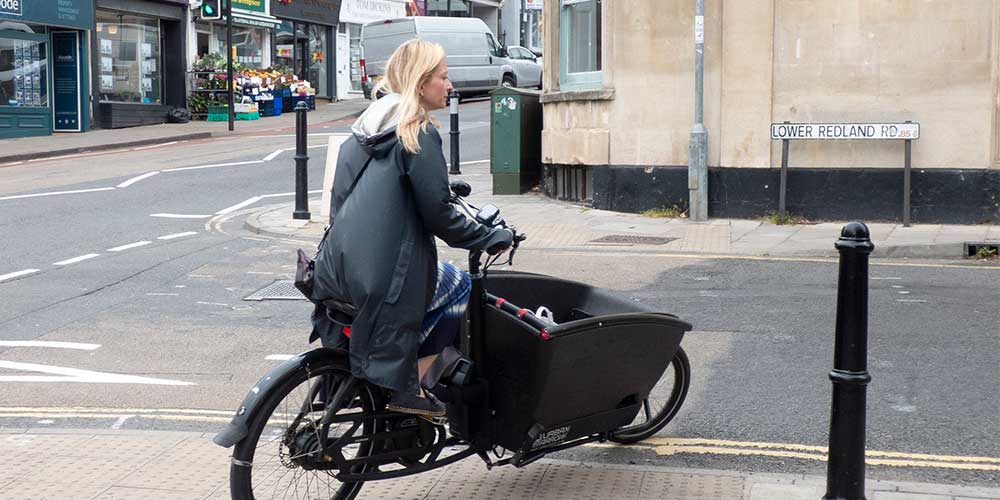 Battery Life
An e-cargo bike's battery life? How long is a piece of string? We jest, but battery technology is constantly developing and there are so many different factors that impact battery life. How much weight you're carrying, how much assist you use and the terrain will all impact your overall range.
Every motor and every different scenario has a different answer, but it is a fair assessment to expect a range of 50km, or around 30 miles from a fully charged e-cargo bike.
Storage
Cargo bikes are bulky machines. While they're much easier to park than a car, they still offer a challenge - especially if you live in an apartment. Cargo bikes don't go well up and down stairs, with their weight making them a challenge to carry.
If you have a garage then that's your best bet, but otherwise the most popular school of thought is "Treat it like a motorbike". Buying a heavy duty lock, and even a cover to protect it from the weather is a worthy investment. Some local councils are starting to offer specific storage spaces for cargo bikes, but they are few and far between and often not overly convenient.
If you have insurance for your cargo bike, you'll need to follow your insurer's requirements regarding locking and storage. At Pedalsure we require you to use a minimum Gold-rated Sold Secure lock when locking your cargo bike. There are also special locking requirements if you leave your cargo bike in the garage or shed, and time limits when leaving your bike locked and unattended away from your home. As ever, read your insurer's policy carefully before taking out cover.
Safety
Riding a cargo bike is similar to riding any other bike on the road. You will have to share the road with other users. There are certain things you can do in an attempt to safeguard yourself, please note the following is simply best practice rather than legal advice! Wearing bright clothing, having front and rear lights (day or night) and wearing a helmet are all measures which we would recommend.
FAQs
Let's finish by answering a few common questions about cargo bikes.
Do cargo bikes get stolen?
Yes, unfortunately. It hasn't taken long for bike thieves to realise that cargo bikes and their components can be very valuable. The batteries, in particular, on e-cargo bikes are often targeted by thieves.
Keep your bike properly locked while in use away from your home and think carefully about storage options at home if space is limited.
Do you need a licence to ride a cargo bike?
The starting point is no - you don't need a licence to use a cargo bike. The exception is in relation to e-cargo bikes that are not considered 'electric bikes' (or 'electrically assisted pedal cycles' (EAPCs) more accurately) under current UK laws and regulation.
These are typically 'high speed' models that assist pedalling above 15.5mph or whose motor produces more than 250 watts of power (there are other requirements to consider as well). Cargo bikes that are not considered EAPCs will likely be classed as a motorcycle or moped and you'll need a driving licence to ride one.
How fast do cargo bikes go?
By law an e-cargo bike's motor must cut out once the bike reaches 15.5mph or 25kph. Non-compliant 'high speed' models are also available which can assist pedalling up to 45kph.
Related Articles You May Also Be Interested In
Thinking about taking the plunge and buying a cargo bike? These may be of interest:
---
Consider a dedicated cargo bike insurance policy from Pedalsure if you're looking to protect your cargo bike. We promise to match any cheaper quote for the same cover and we offer all customers a massive 60% discount on a Diamond-rated Hiplok DX D-lock worth £79.99 when taking out a policy with us. Shipped to you for just £30.