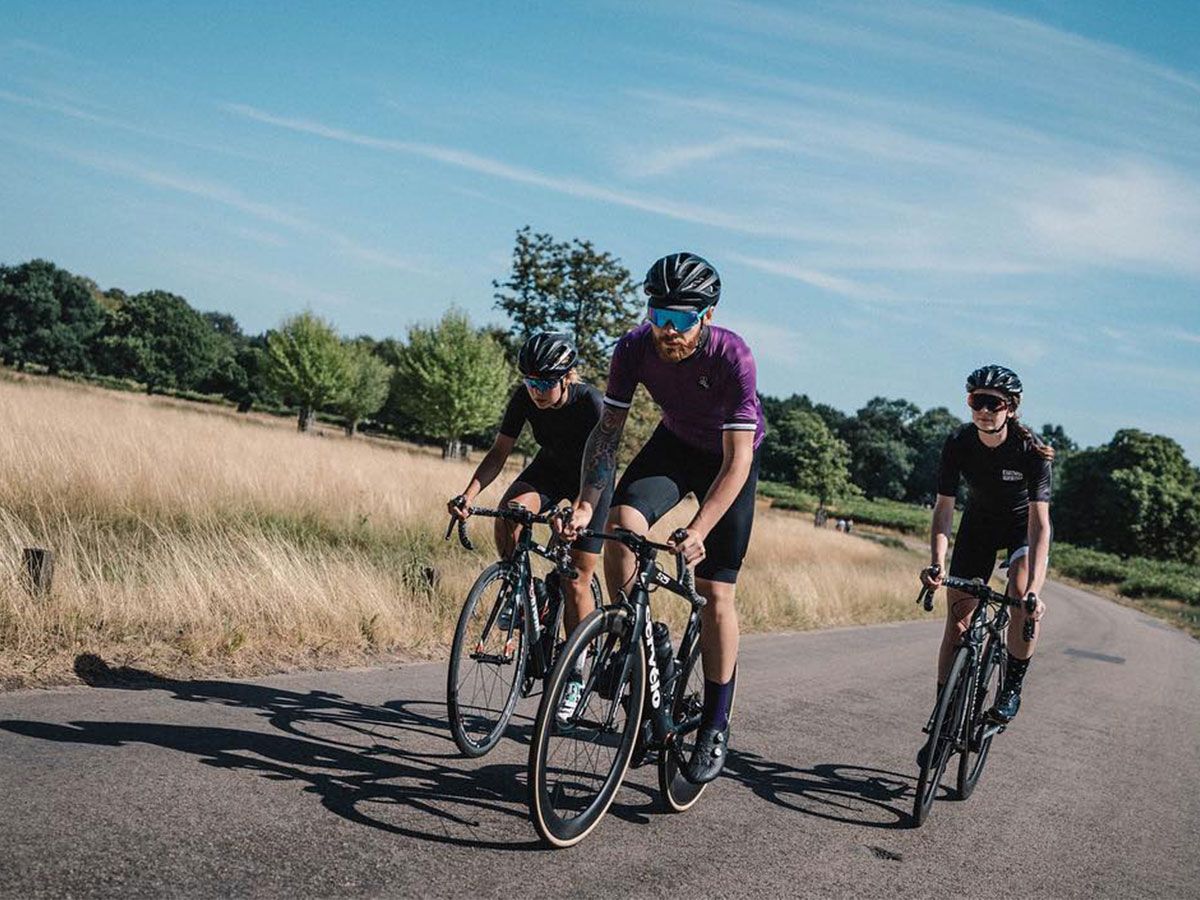 Strava is arguably the most popular exercise tracker in the world and is used by many a UK based cyclist. The company's 2019 report showed that Strava athletes logged over 7 billion miles on the app, which is enough to take you to Neptune and back.
Most of those billions of miles will have been carried out on 'segments', created by Strava users, on which riders can compete and compare against one another and themselves. But what are some of the most popular segments in the UK?
As you will see the results are very southern centric; none of the most ridden segments is north of central London. This is perhaps not that surprising given the population density of the south-east and the large cycling community there. Here are the segments in all their glory.
OFFICIAL 100Climbs No14 Box Hill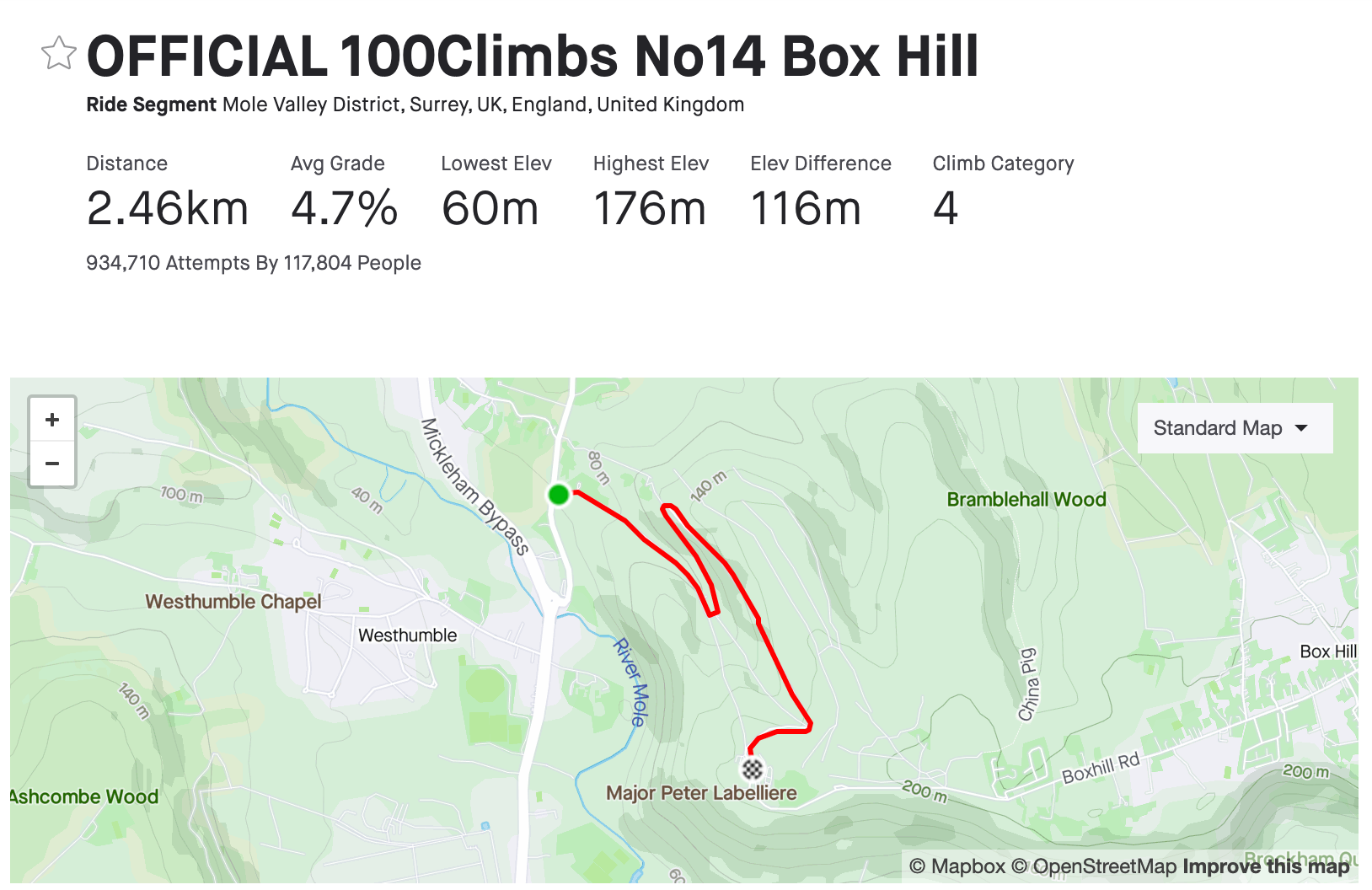 Not only is Box Hill one of the UK's most recognisable places for cyclists, it's also the most popular hill climb segment in the world. With 934,211 attempts by 117,804 people, the Surrey climb is definitely the place to test your mettle. The hill was popularised by the London 2012 Olympics, subsequent RideLondon races and its companion sportive, so the leader board boasts an impressive list of pros and amateurs alike.
Location: Mole Valley, Surrey
Length: 2.46km
Average gradient: 4.7%
Maximum gradient: 7.0%
Elevation gain: 116m
KOM time: 4:43
QOM time: 5:41
Segment: https://www.strava.com/segments/6695759
OFFICIAL 100Climbs No17 Leith Hill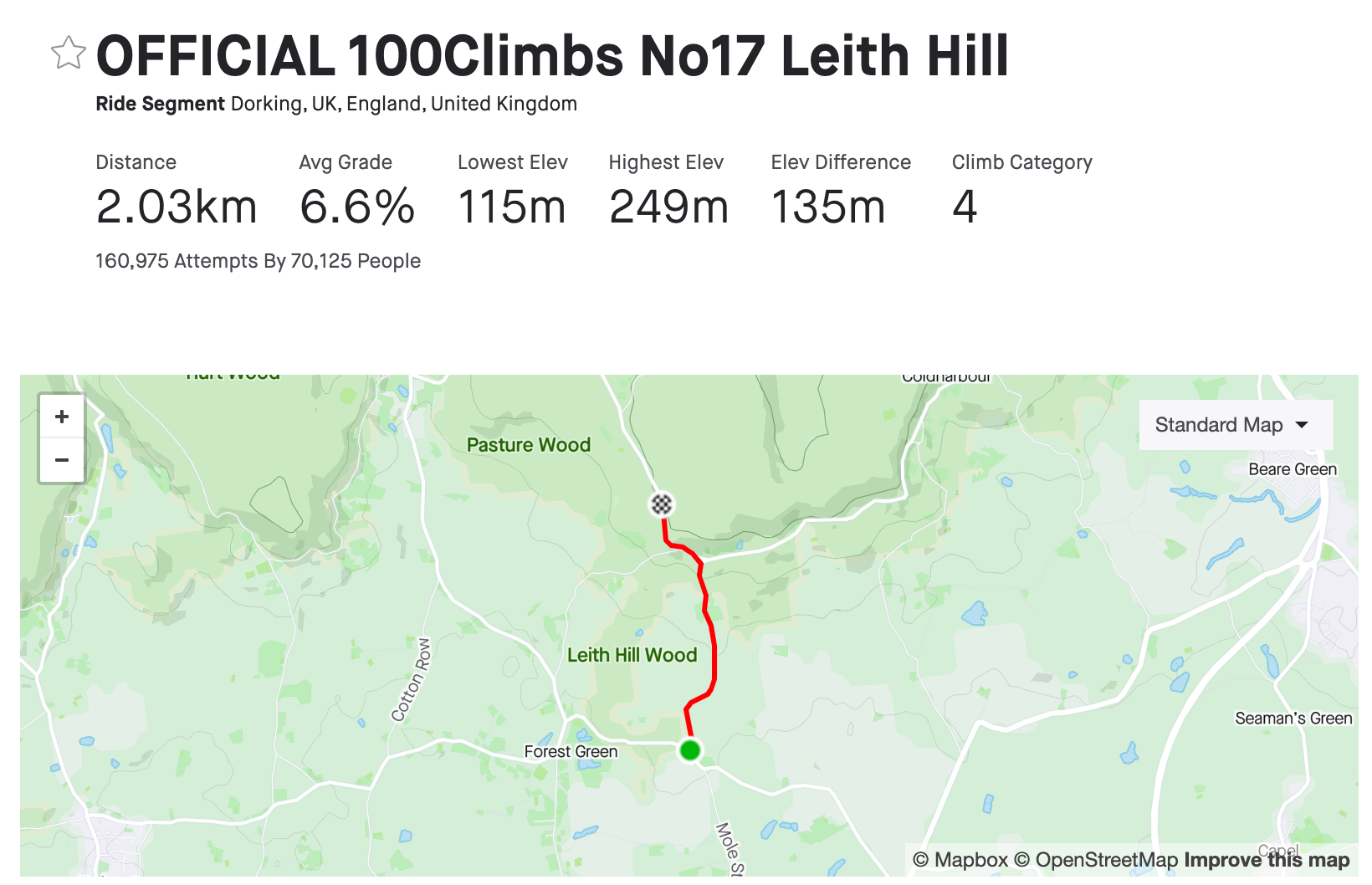 Another busy Surrey segment is Leith Hill. Box Hill's less popular and steeper big brother also peaks out at the county's highest point. There are various routes up to the summit on and off-road, but the most popular way up the climb is via the south ascent of Leith Hill road. Like Box Hill, you can tackle the slopes of Leith Hill on Zwift, so even if you live at the other end of the country you can still get an understanding of why these Surrey climbs are so revered.
Location: Dorking, Surrey
Length: 2.03km
Average gradient: 6.6%
Maximum gradient: 15.9%
Elevation gain: 135m
KOM time: 4:51
QOM time: 6:17
Segment: https://www.strava.com/segments/6691321
Ditchling Beacon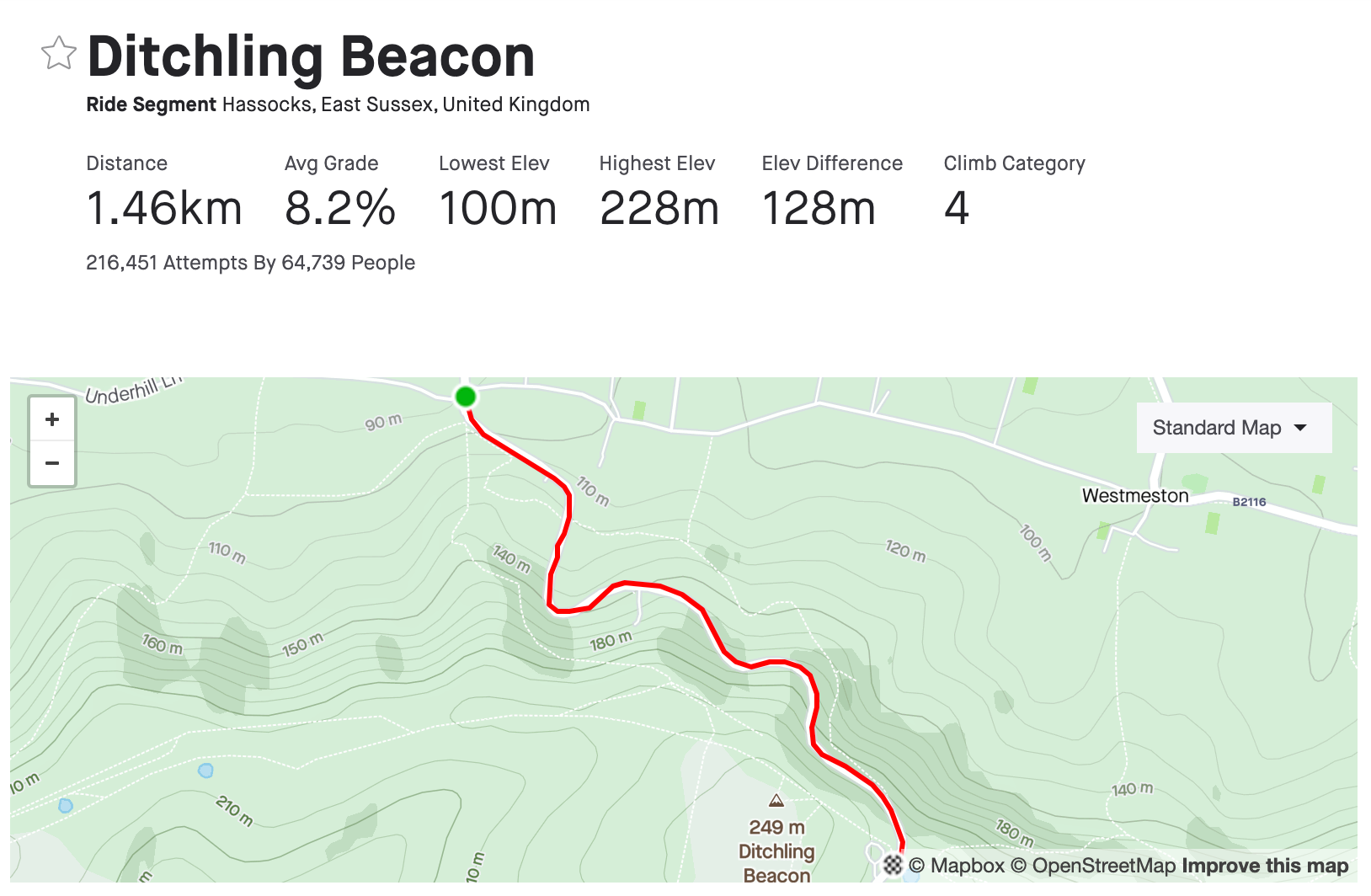 The brutish Ditchling Beacon is the south coast's most recognised climb having been a part of the London to Brighton charity ride since its inception. You might even say this climb was the Box Hill of the nineties, its popularity soaring after appearing in a stage of the 1994 Tour de France, and that wasn't the last time it was shown off in the professional calendar – the segment's two best times were logged by Lars Petter Nordhaug and Michal Kwiatkowski during stage 7 of the 2014 Tour of Britain. You will have to be on a very good day to beat those two.
Location: Hassocks, East Sussex
Length: 1.46km
Average gradient: 8.2%
Maximum gradient: 11.2%
Elevation gain: 128m
KOM time: 3:57
QOM time:  4:57
Segment: https://www.strava.com/segments/770191
Tour de Richmond Park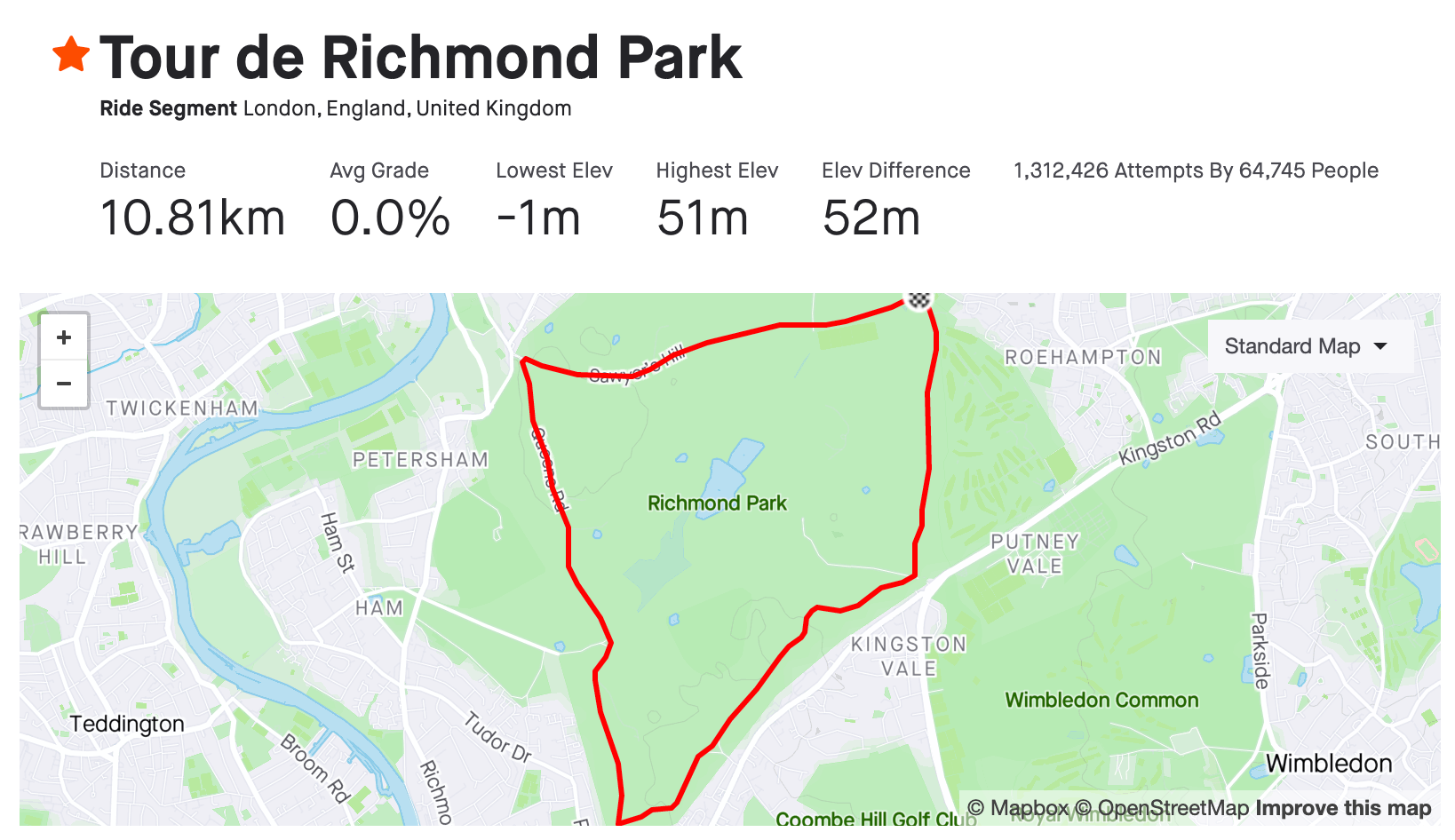 Three of the most popular UK Strava segments are in Richmond Park itself so we figured we would include all of them on this list with the Tour de Richmond Park loop. The route includes the very popular segments of Full Sawyers Uphill and Broomfield Hill - 4% Climb. This loop is so loved as it's a popular cycling haven away from the busy city.
Location: London, England
Length: 10.81km
Average gradient: 0%
Maximum gradient: 9.2%
Elevation gain: 52m
KOM time: 13:43
QOM time: 14:59
Segment: https://www.strava.com/segments/610040
Hampton Court Drag – light to zebra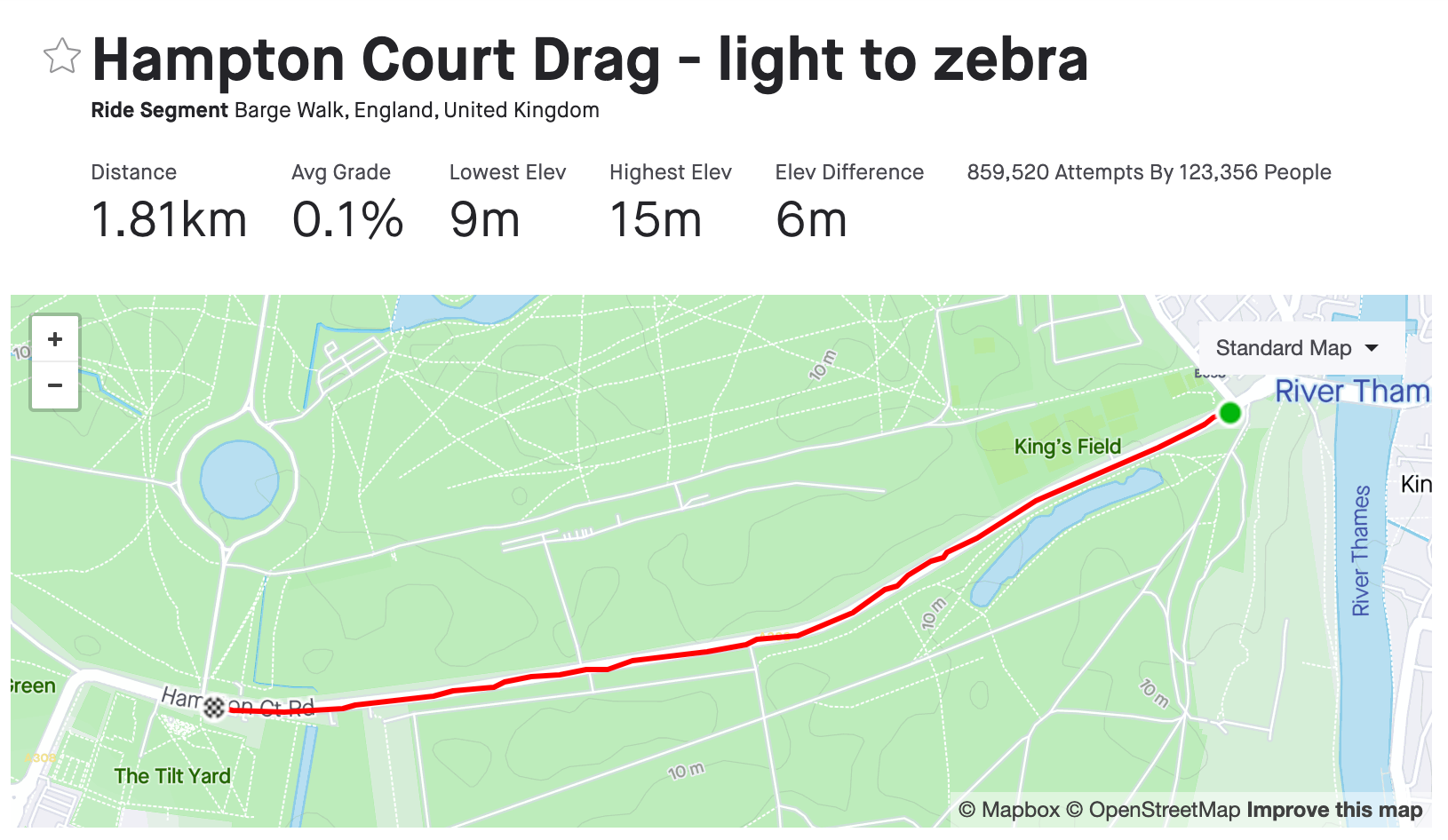 Similar to Richmond Park, the Hampton Court Drag sees a lot of action due to the density of cyclists in the area. In fact, many of the riders travelling to Richmond Park get there via this stretch of road. Boasting 859,520 attempts by 123,356 people, it's also clear that it's a segment on many riders' commutes. Pro cyclist Marco Benfatto from Bardiana-CSF-Faizanè has the top time for the drag, but he did do it on closed roads during Ride London in 2017.
Location: Barge Walk, England
Length: 1.81km
Average gradient: 0.1%
Elevation gain: 6m
KOM time: 1:53
QOM time: 2:19
Segment: https://www.strava.com/segments/4295115
Newlands Corner from West Clandon/A246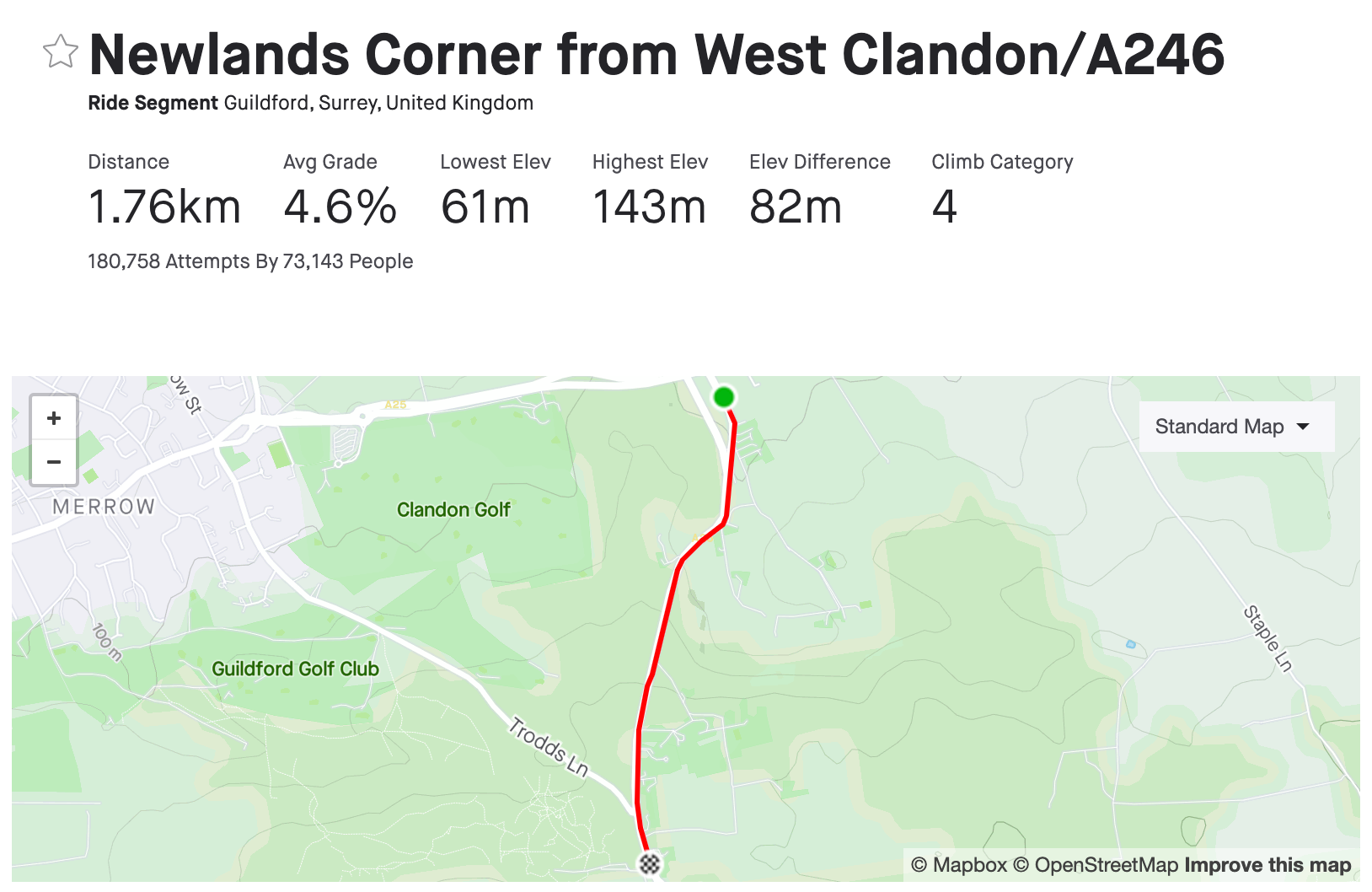 Another Surrey climb to feature as one of the most popular UK Strava segments is Newlands Corner. We'd like to think this is because of the great views and hard riding, but realistically it's probably because there's a great café at the top. The KOM time for the 1.76km climb is 3:19, which works out at an impressive 32km/h, and the QOM of 4:03 calls for a pace of 26.5km/h – speedy for a climb.
Location: Guildford, Surrey  
Length: 1.76km
Average gradient: 4.6%
Maximum gradient: 9.9%
Elevation gain: 143m
KOM time: 3:19
QOM time: 4:03
Segment: https://www.strava.com/segments/646938
***
Clearly the UK's most popular Strava segments are saturated in and around London and the south-east, however, the platform actually no longer lists the most popular segments and they've also changed the heatmap feature for privacy reasons. Not in the south-east, or take issue with the preferences of the data? Tell us what your favourite segments are over on Instagram.
As well as sparing a few extra quid a week for your post-Strava segment hunting café stop, how about investing in cycle specific insurance too? The fact is, you won't find many of the things we cover in your typical home insurance policies.
Taking out a policy with us means that your bike is protected in cases of bike theft and damage when you are out on your rides. Pedalsure can also protect you, your bike and your accessories in mass participation events and races, in cases of personal injury, personal liability and when you're travelling abroad.
Getting yourself set up with a Pedalsure policy is something you only have to do once a year, but you get the benefit with every ride. So, next time you're out on a group ride, spread the word that cycle insurance is the right way forward!
Need something to lock your bike up with when you're tackling one of these popular segments? You can now get a free gold rated Hiplok DX D-lock worth £69.99 with any new insurance policy, just one of many ways we protect both you and your bike.
#BikeIsBest