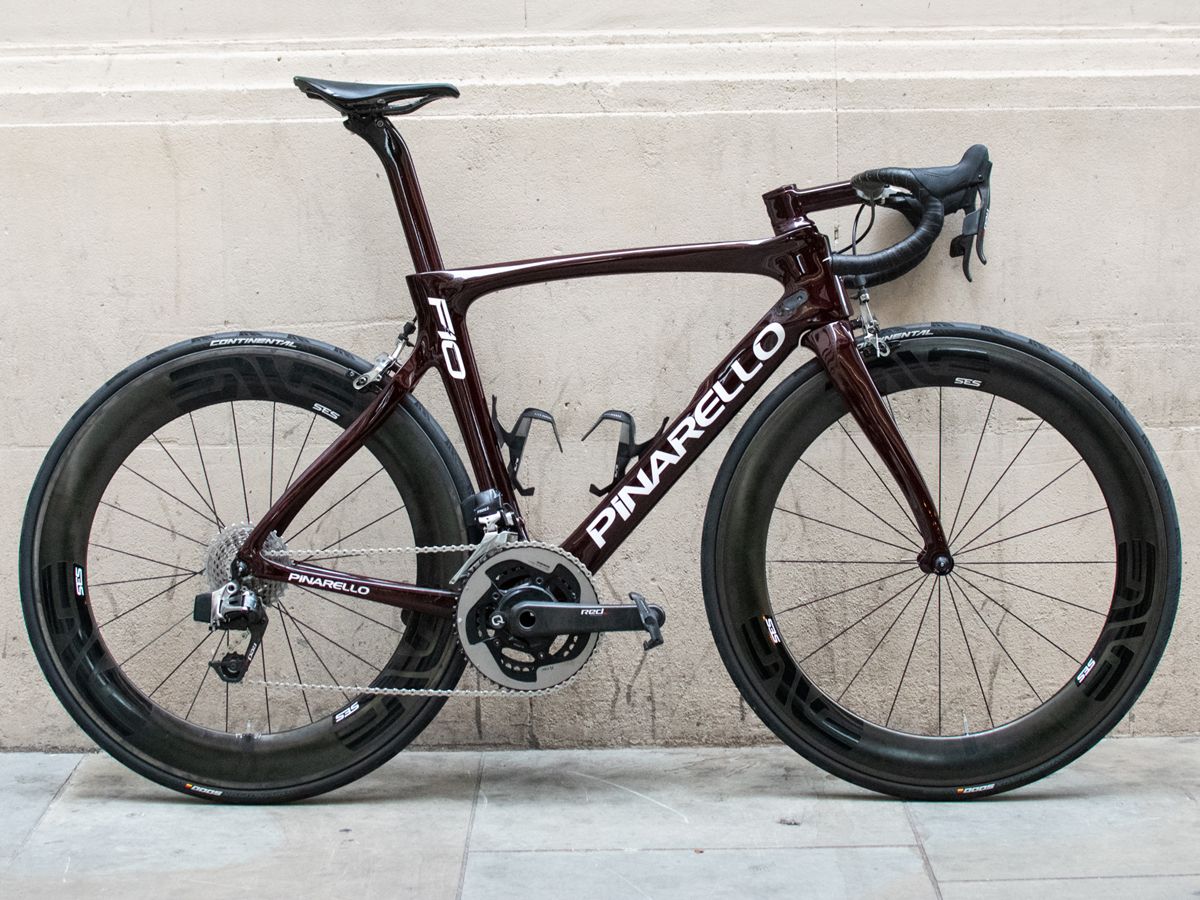 To the average cyclist, cycle insurance might seem like a luxury that only the most avid rider can justify. But, we're here to tell you that's certainly not the case and every cyclist should seriously think about taking out specific bike insurance. Before doing so, ask yourself: 'How important is my bike to me?,' and 'How much will it cost to replace if I'm not insured?'.

We all know that cyclists are vulnerable road users and we know how important your bike is to you, so why not cover it? The main argument against product specific-insurance is that it is an unnecessary cost but that's often inaccurate. Let's take a look at the facts – and how much it really costs to insure your bicycle.
Why do I need cycling insurance?
The easy answer to this is that an insurance package specific to cycling covers you against circumstances that are unique to the sport. Most standard home & contents insurance packages will not cover these potential eventualities. Do you still need convincing?
Check out:
How much will it cost if I'm not insured?
Unlike other road users, cyclists are not legally required to purchase insurance. However, it still makes sense to be covered in the long term. The main reason for this is the rise in bicycle thefts. As reported in February 2020, police figures show there were nearly 100,000 bike thefts in England and Wales in 2018-19 – that's a 13 per cent rise in just four years. Even more worrying is the fact that the Home Office says that fewer than one in 50 bike thefts were solved in the past four years. Do you back yourself against those odds?
With those statistics in mind, it is worth noting that home contents insurance is unlikely to cover theft of your bicycle when it is away from your property. So, how much will it cost if you're not insured? Well, it will essentially be the price you bought your bike for and how much it means to you. Can you afford to take that risk?
How much does it cost?
Below we've set out the monthly premium it would cost you to take out bicycle insurance with Pedalsure, according to the value of your bike. We've used age 38 as a reference (the average age of a man in the UK) and Windsor (where we're based) as the insured location.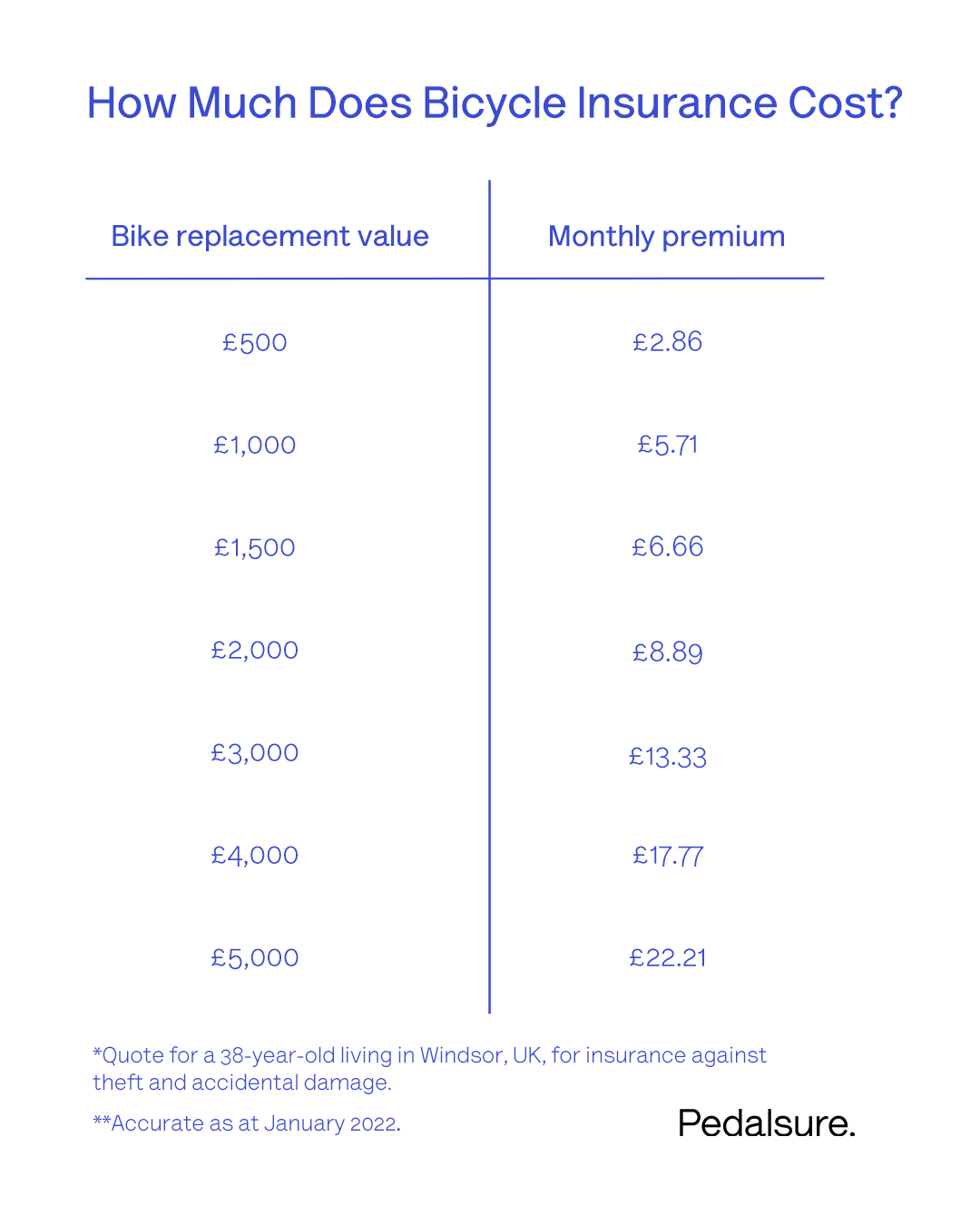 What affects the cost?
There are various data points that will affect the cost of the quote. The three initial quote criteria, as previously mentioned, are replacement cost, age and postcode. Simply put, the higher the value of the bike, the higher the premium, the older the rider is, the more responsible they are deemed by Pedalsure and therefore less at risk.
We ask for your postcode as our algorithm uses this data to decide how safe your neighbourhood is in relation to risk of theft. As well as these three key criteria, the cost of your premium also includes personal accessories. For example, if you are a racer, Pedalsure suggests that you include the value of your most expensive set of wheels in the replacement value of the bike.
How much should I insure my bike for?
Pedalsure suggests that for bikes that can be readily replaced from the shops, the value should be the replacement cost including VAT from a dealer at the time you apply. You should also include any additional purchased parts such as wheels, groupsets or pedals.
If you choose, you can include accessories such as lights and computers under the 'Accessories and Personal Effects' limit. If you ride a bicycle that you built up from scratch yourself, the insured value should reflect the total cost of the individual parts that make up the bike but not the labour time spent putting it all together.

In the event of a claim, you will be asked to provide proof of ownership. Ideally, this would be in the form of a receipt for the bike and accessories. We know that this isn't an ideal world and we are susceptible to throwing away receipts or keeping them in our pockets as they go through the wash.
Pedalsure understands that this can happen so proof of ownership extends to packaging, manuals or photos of all the relevant parts, clearly showing the make of the item. If you've also had your boxes go through the wash… then you can provide us with bank or credit statements that confirm the purchases or go back to the original retailer who may keep copies of receipts for larger purchases on record.
Getting a quote
Our quote process is a quick and easy three-step process. First, provide us with your replacement bike value (we say this value should be the undiscounted replacement cost including VAT from a reputable dealer at the time you apply), next submit your age and then your postcode and, as simple as that, our quote calculator will give you a price.
It is an instant process and you are given your monthly and annual quote. Better still, as a new customer, you can receive a gold-rated Hiplok if you insure a bike worth £1500 or more and choose to pay annually. Using a myriad of data streams, Pedalsure has its own refined algorithm that uses these inputs to give you – the customer – a highly competitive price.
Ready to get a quote to cover your pride and joy? It takes 30 seconds.

Our policies
As we have shown, it depends on the factors listed above and how many bikes you want to cover when it comes to the overall cost. However, something that is a little more tangible are our personal cover policies.

When it comes to this side of the process, we do have figures we can show you as Pedalsure has a set-in-stone gold, silver and bronze system.
At different levels, these policies cover accidental death, loss of sight, loss of limb(s), loss of limb use, permanent total disablement, quadriplegia, paraplegia, loss of hearing in both or one ear, loss of speech, out of pocket expenses, hospitalisation, dental treatment and temporary total disablement.

To learn more about our policies and the cover level they provide and to see a more comprehensive of the policies benefits, check out our current Policy Document.
---
So, now you know the ins and outs, how about taking out a quote? Start our quick and easy quote process now and keep up to date with everything Pedalsure by following our Instagram account @ridepedalsure.

Need more information? Head over to our 'Everything you need to know' page.