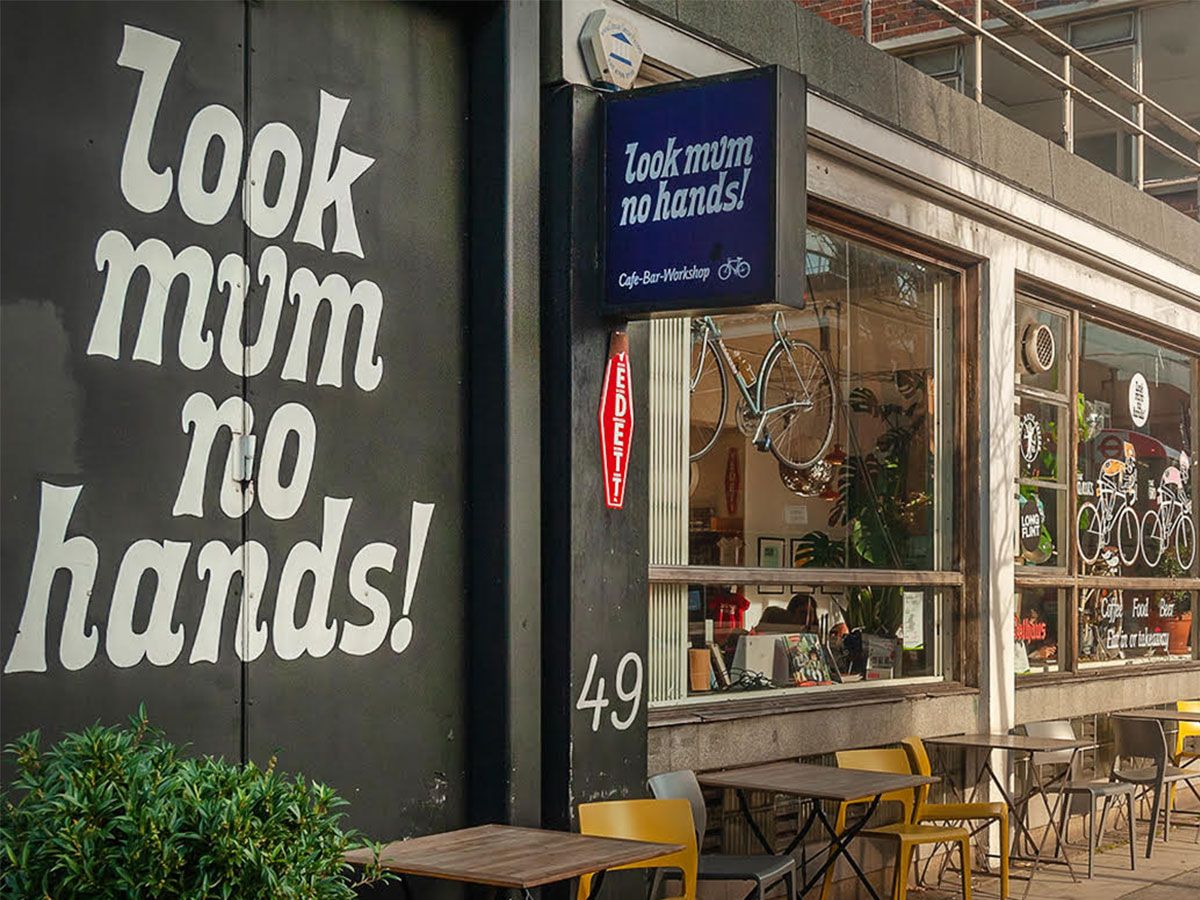 One of the things that we cyclists like to obsess over as much as our bikes is of course a decent cup of coffee. The many cycling cafés that can be found in the UK are the perfect places to combine the best things about the sport we all love. Bikes, community, coffee and cake, the humble cycling café has become a hub for club riders, tourers, mountain bikers, fitness buffs and triathletes.  
Whether you're starting and/or finishing from one or just popping in for a mid-ride refresh, these friendly cafés have really brought the cycling community together. Here is our pick of some of the best bike friendly stops you can find in the UK.
Look mum no hands!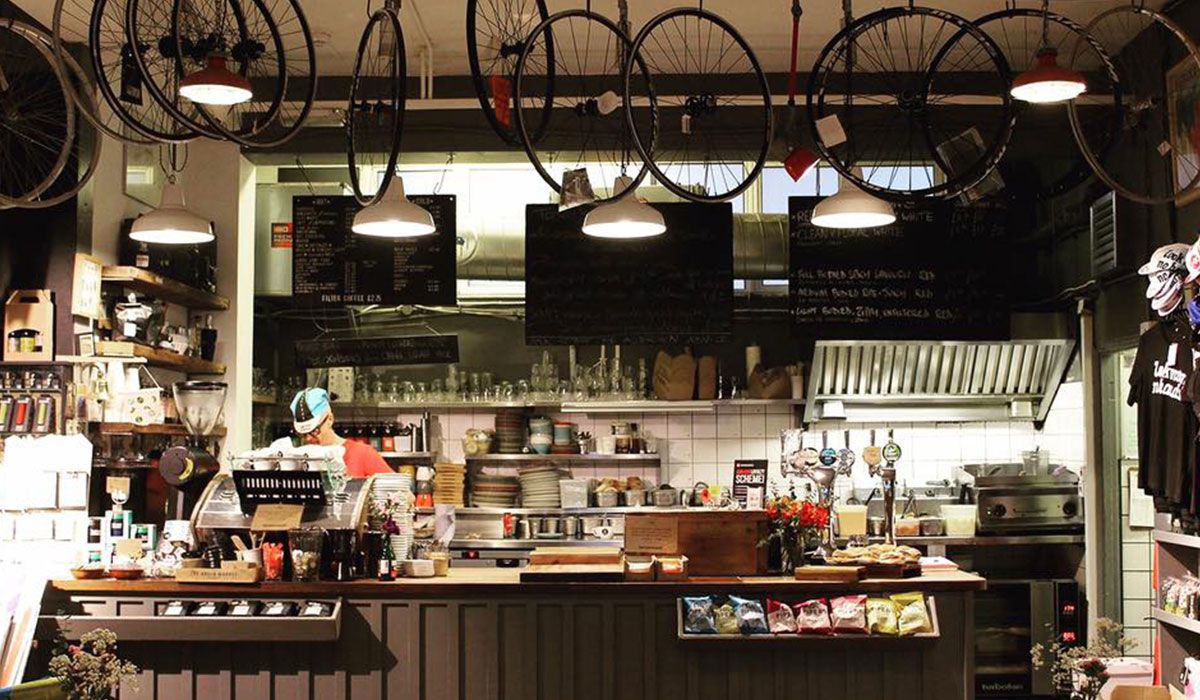 Arguably the most well know cycling café in the UK, 'Look mum no hands!' has been serving cyclists since 2010, and is a natural place to start as the London shop was a trailblazer in the cycling café boom of the past decade. With a workshop, café, bar and exhibition space, 'Look mum no hands!' is London's cycling community hub. Whether you're riding, wandering in to watch some live bike racing or stopping by for a refreshing coffee, you're sure to find like minds at London's foremost cycling café.
Address: 49 Old St, London EC1V 9HX
Bank View Cafe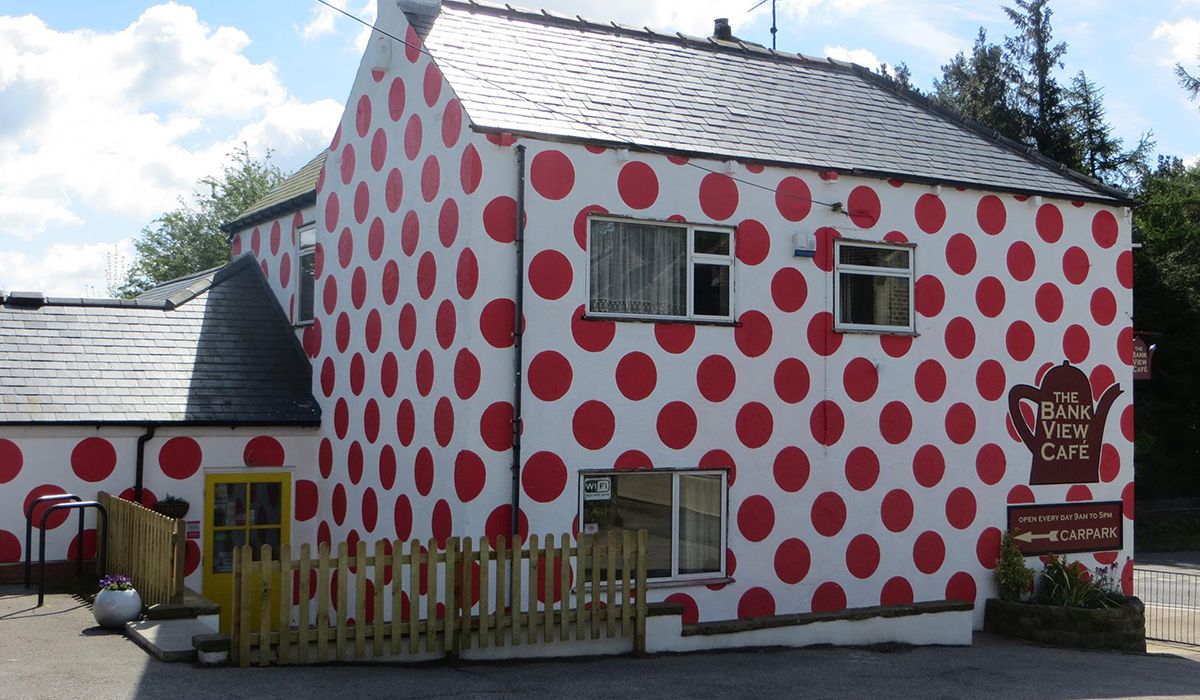 One of the most iconic cycling cafés around, Bank View in Sheffield was painted in polka dot jersey style to celebrate the 2014 Tour de France that started in Yorkshire. The café was also awarded the Lifetime Achievement award in 2019 as part of Cycling UK's annual cyclists café of the year awards. Set in a picturesque area surrounded by fantastic roads to ride on, it's the ideal start/finish point for any Dales adventure.
Address: Langsett, Stocksbridge, Sheffield S36 4GY
Cinnamon Cafe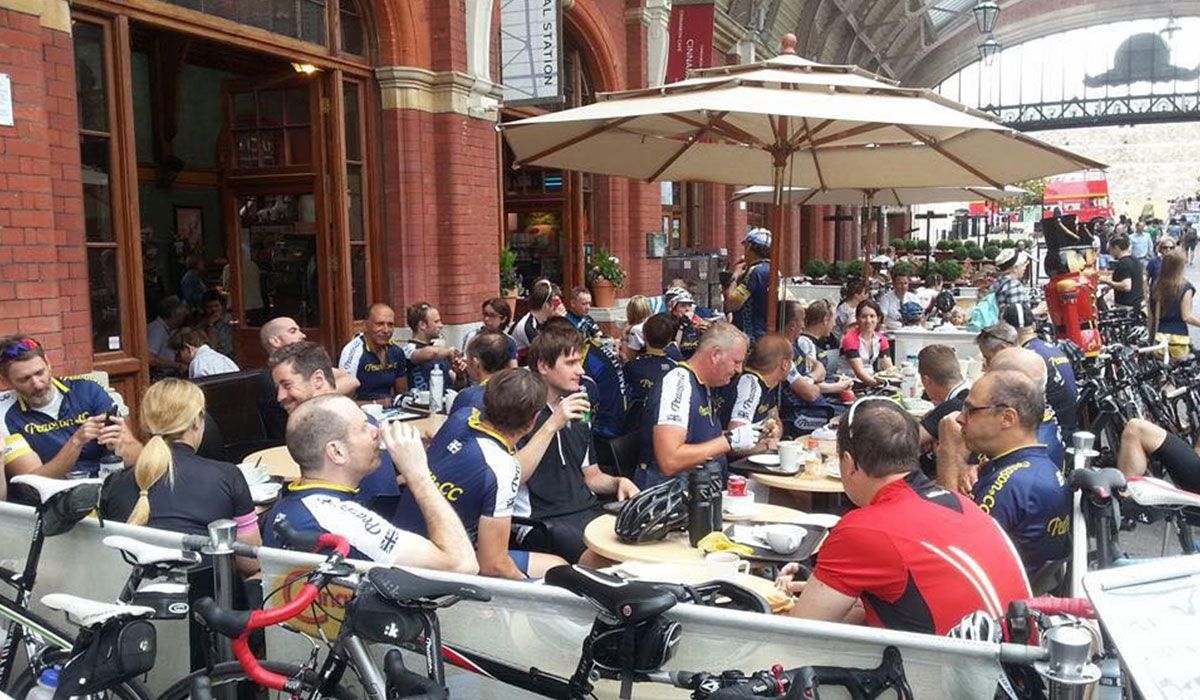 A staple of many a club ride for riders based in and around South West London, Windsor's Cinnamon Cafe is best known for its namesake buns which have achieved a cult like following among sweet-toothed cyclists. The only question is whether you go for half or a whole bun, something that's generally answered by the length of time you've spent riding on the front on the way there. Situated in the heart of Windsor, just next to the magnificent castle, this is one not to be missed.
Address: The Old Ticket Hall, Windsor Royal Station, Windsor SL4 1PJ
The Cycle Hub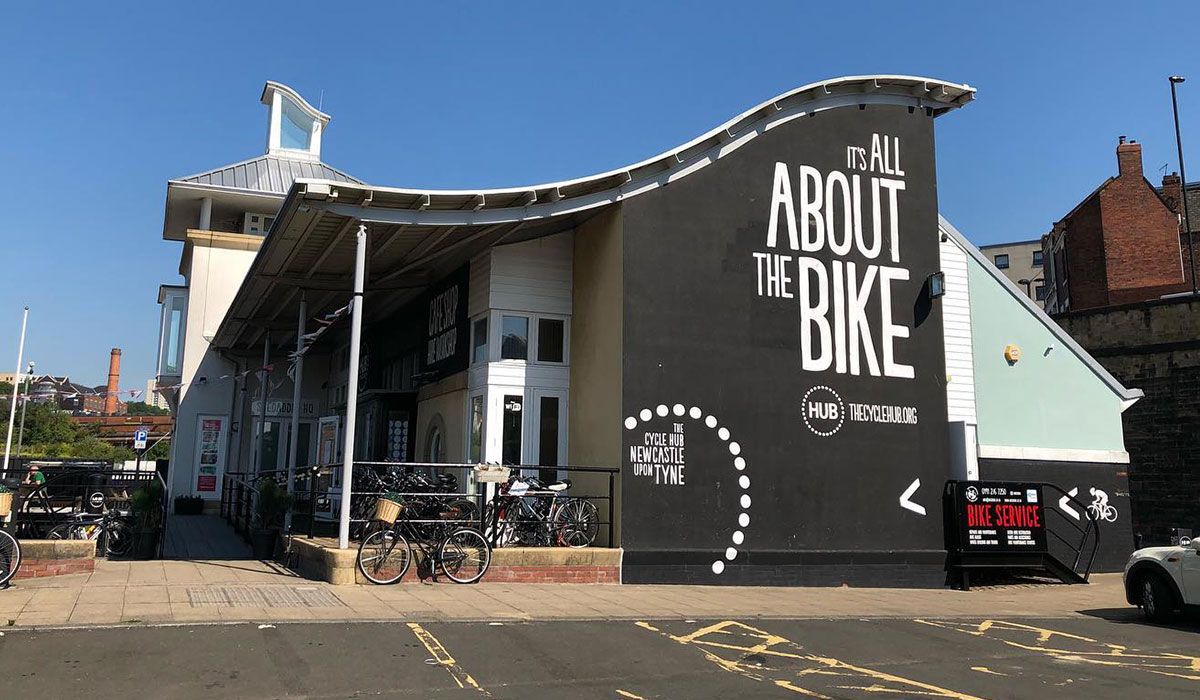 This Tyneside café does exactly as its name suggests. As a workshop and café that runs self-guided rides with bike hire, this truly is a community hub. The Cycle Hub is in a beautiful repurposed riverside building so is the perfect place to start when exploring the city by bike.
Address: Quayside, Newcastle upon Tyne NE6 1BU
Velocity Café & Bicycle Workshop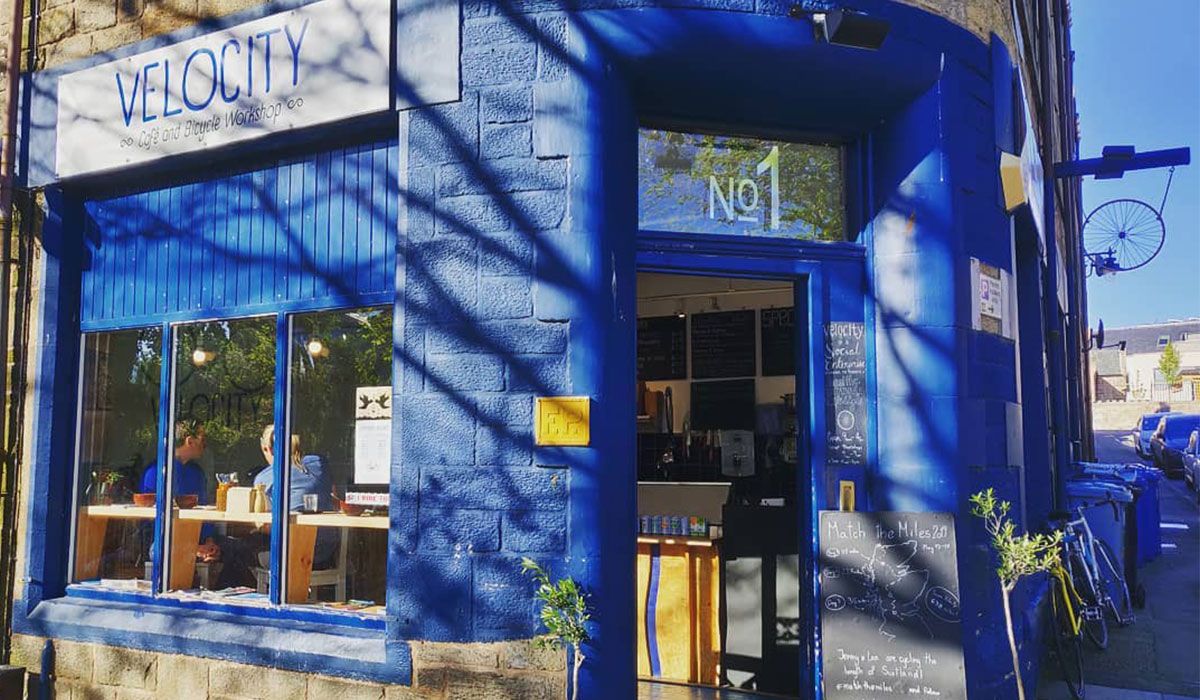 One of the most Northern cycling cafés in the UK, Velocity promotes community while being a regular stop for local riders. They describe themselves as a social enterprise and organise many rides from the shop to promote health, wellbeing and sustainability. If it's just a quick bite you need, the vegetarian café caters for many needs.
Address: 1 Crown Ave, Inverness IV2 3NF
The Hub Portreath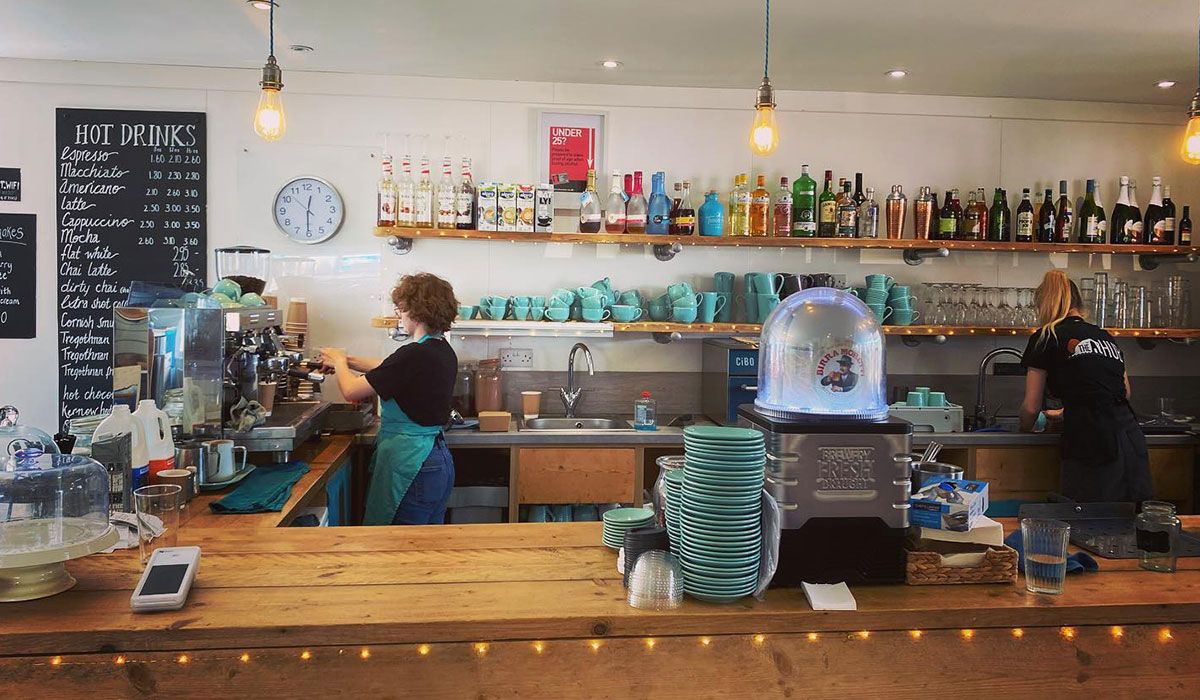 From one end of Britain to the other, this Cornish café boasts a menu that includes gluten free and vegan options all made from locally sourced ingredients. Located at the start of the Coast to Coast Trail and with many other routes in the area, The Hub is a perfect place to start and finish your rides in this part of the country.
Address: Sea Front, Portreath, Redruth TR16 4NN
Maison Du Velo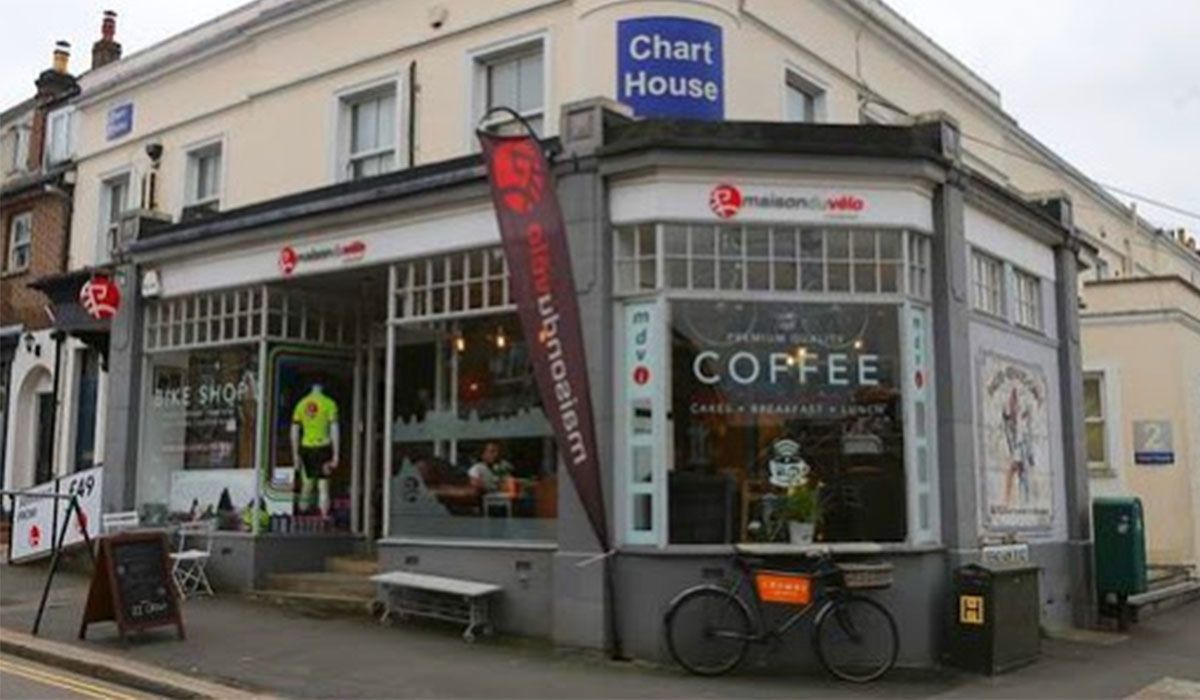 With the North Downs on its doorstep and the Surrey Hills just a pedal stroke away, Maison Du Velo is the Surrey hotspot for both road and off-road riders. As well as being a café, it's also a full-time shop so you can pick up supplies mid-ride or ask for assistance or directions from the bike mad staff.
Address: 31 Lesbourne Rd, Reigate RH2 7JS
Velolife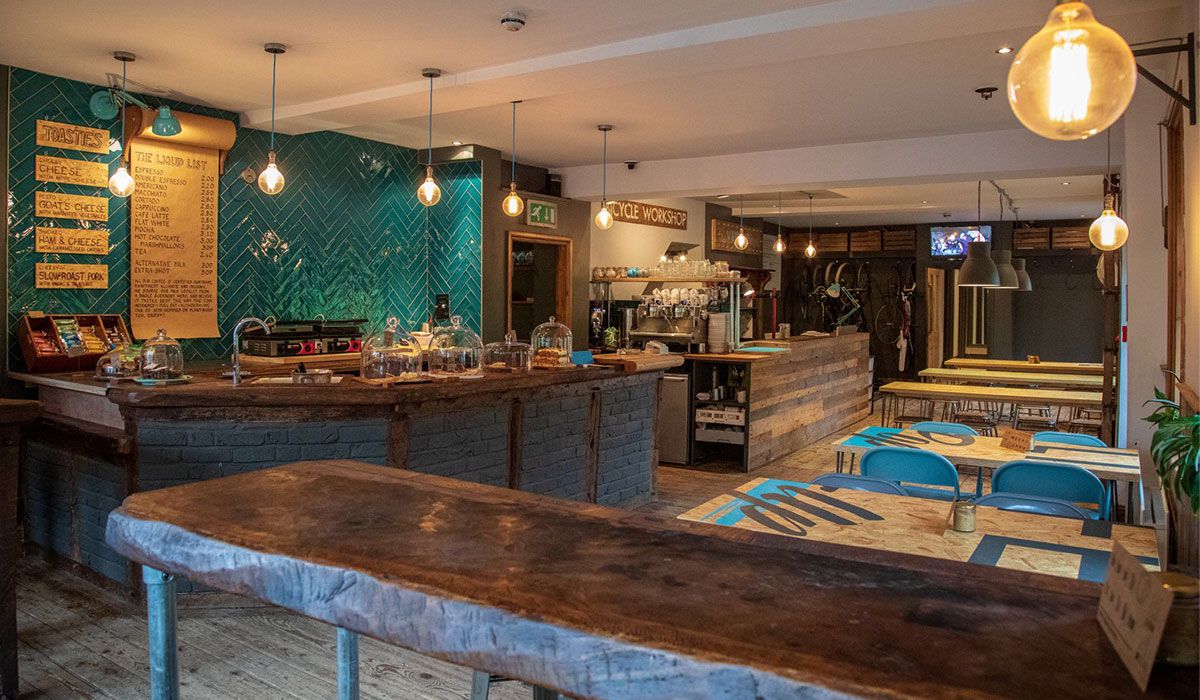 Velolife is situated at the foot of the Chilterns, just a few kilometres away from the historic town of Henley. A destination in its own right, this increasingly popular stop serves up some of the best toasted sandwiches you'll find and the converted pub also includes an on-site workshop for repairs and servicing.
Velolife hit the headlines in 2019 when the local council decided to ban cyclists from using the cafe as a meeting point after complaints from local residents. Fortunately both sides saw sense and the ban was eventually binned. Vive the meatball marinara toastie.
Café Ventoux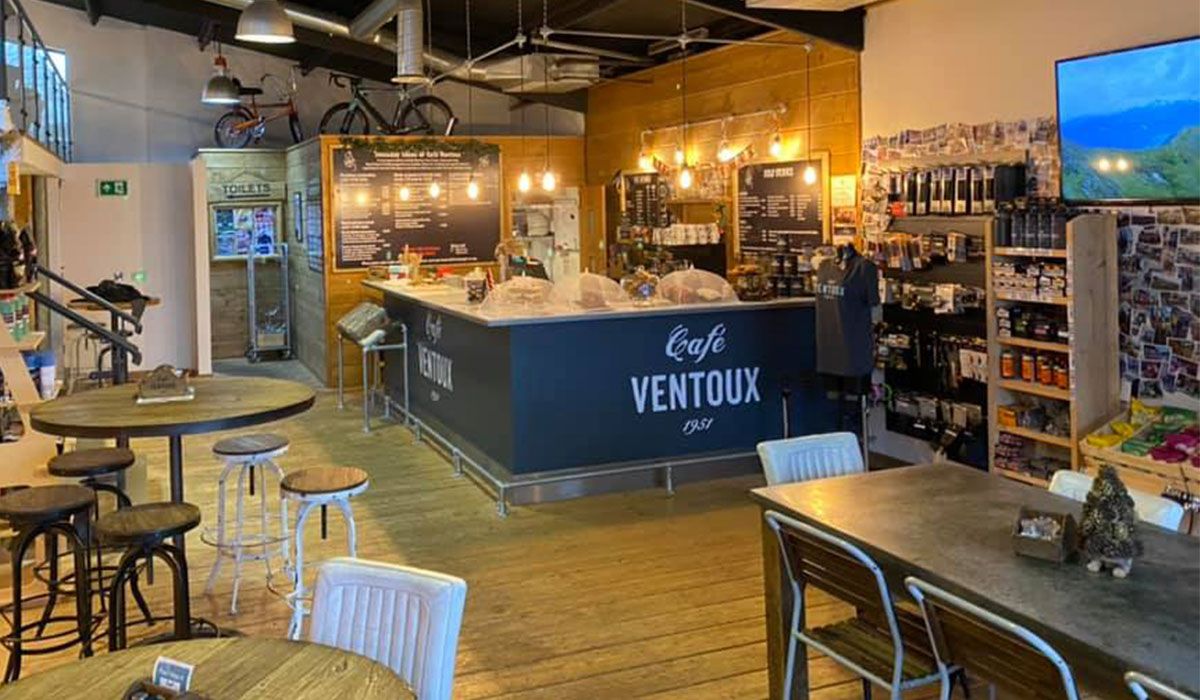 Taking its name from the 'Giant of Provence' itself, Café Ventoux is an equally iconic landmark for Leicestershire cyclists. As well as being in the middle of excellent riding country and serving many energy boosting treats, Café Ventoux also runs a wide range of social events.
Address: Tugby Orchards, Wood Ln, Tugby LE7 
Popup Bikes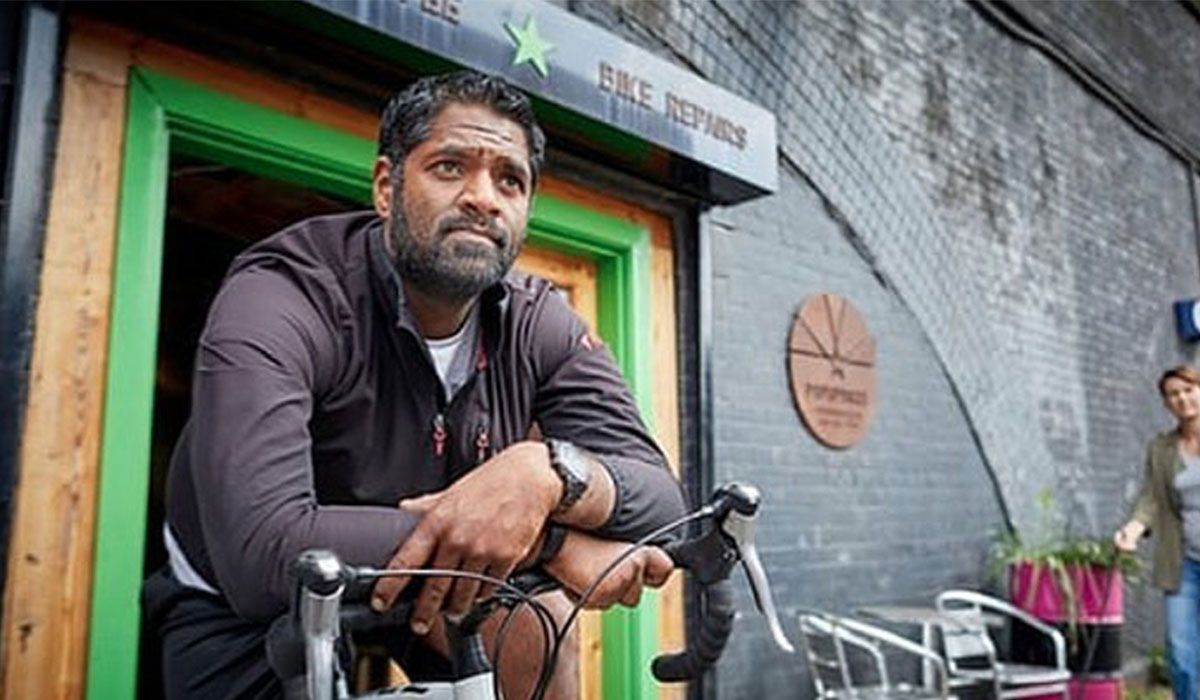 Popup Bikes in Manchester is one of the coolest cafés on this list and you'll be unlucky not to get in as it has space for up to 100 bikes! As well as being a full-time bike repair shop and fitter, Popup Bikes also serves a lovely array of home-made paninis, coffee and cake six days a week.
Address: Arch 5 Corporation St, Manchester M4 4DG
Spokes Cycles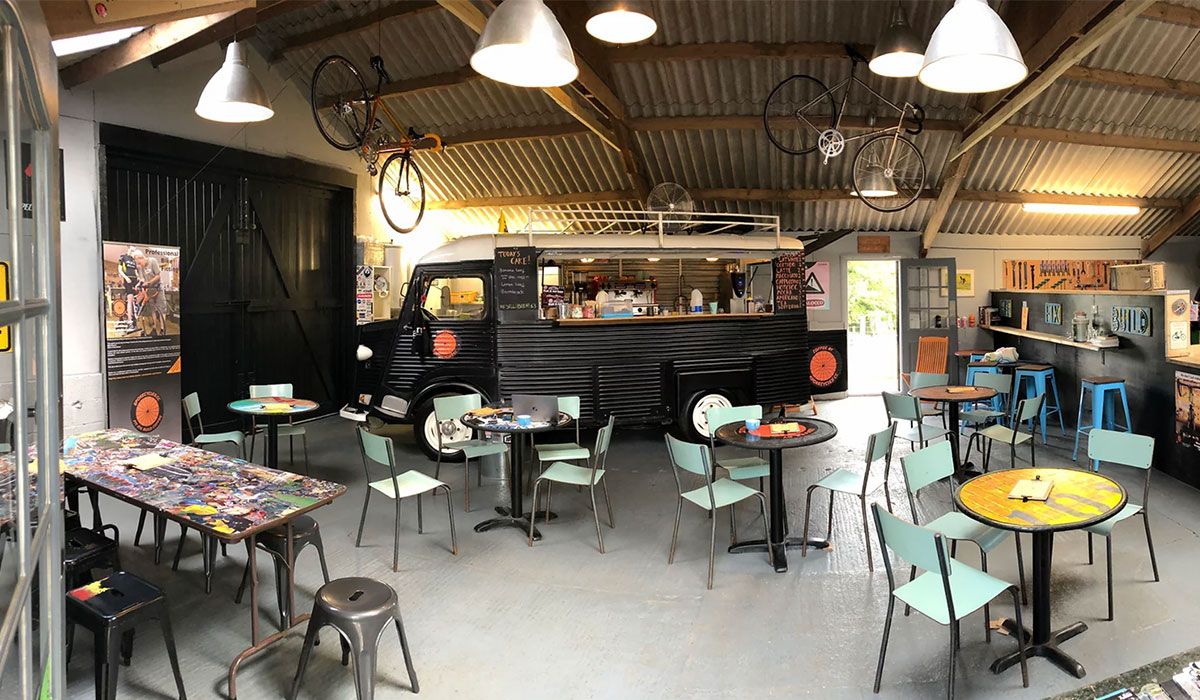 A relative newcomer, Spokes Cycles has quickly become one of the most popular hotspots for the local cycling community. Whilst the rustic, bike themed cafe serves great coffee and excellent food ideal for a mid ride stop-off, Spokes also offers full workshop and bike fitting services and even courses in bike maintenance.
Address: Ridge Farm, Rabley Heath, Codicote, Hertfordshire, AL6 9UA
Bicicletta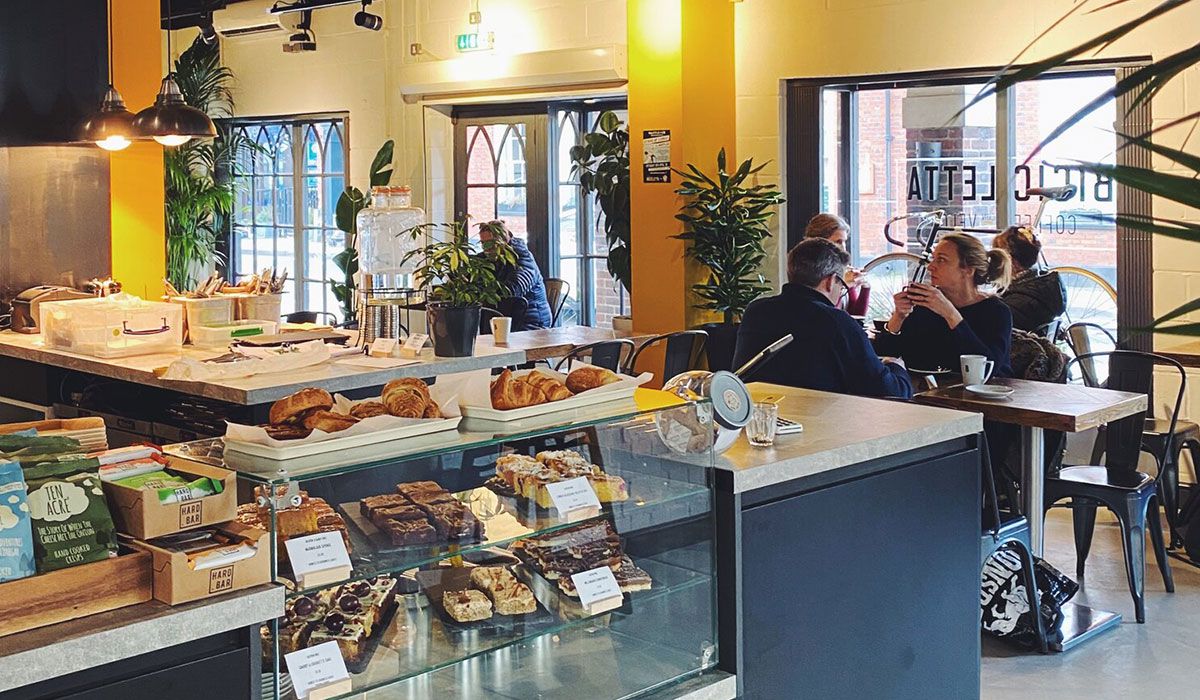 Nestled within the pretty market town of Saffron Waldon, Bicicletta is a favourite hangout for many Cambridgeshire, Hertfordshire and Essex based riders. With a varied menu, good coffee and stylish contemporary interior, not to mention plenty of outdoor seating, it's an ideal place to rest the legs whatever the weather.
Address: 1-2 Market Row, Saffron Walden CB10 1JZ
---
We all have our favourite café stops and more importantly our favourite orders when get there. So, whether you're a fruit cake and espresso or flapjack with an Americano type of rider, let us know your favourite bike friendly stops.
As well as sparing a few extra quid a week for your mid-ride café stop, how about investing in cycle specific insurance too? The fact is, you won't find many of the things we cover in your typical home insurance policies. Taking out a policy with us means that your bike is protected in cases of bike theft and damage when you are out on your rides.
Pedalsure can also protect you, your bike and your accessories in mass participation events and races, in cases of personal injury, personal liability and when you are travelling abroad. Getting yourself set up with a Pedalsure policy is something you only have to do once a year, but you get the benefit with every ride.
Need something to lock your bike up with when you're out and about? You can now get a huge 60% discount on a gold-rated Hiplok DX D-lock worth £79.99 with any new insurance policy. Yours for just £30. Just one of many ways we protect both you and your bike.
#BikeIsBest